It's been 25 years since Happy Gilmore first entered our lives and we couldn't stop quoting "Just taaaaap it in, tap-tap-tap-a-roo," and "Why won't you go to your HOME?" at every available chance. To celebrate a quarter-century of people doing the Happy Gilmore run-up golf swing, Adam Sandler has done the iconic tee-off again, absolutely thumping it up the fairway of his local course.
Sandler posted a video of himself taking the run-up shot today, claiming that he hasn't attempted the Happy Gilmore swing in about 25 years – not since the filming of the 1996 comedy.
Jesus Christ, listen to the sound of this shot. It's like a sword cutting through the air, or a jet breaking the sound barrier or some shit.
Happy loves you all! Thanks for everything! pic.twitter.com/p1aY9JcFWh

— Adam Sandler (@AdamSandler) February 16, 2021
Dedicated to his on-screen PGA Tour nemesis, Shooter McGavin, Sandler dips straight back into the Happy Gilmore character to laugh at Shooter in that classic taunting cackle.
That definitely woke the beast, because Shooter (aka Christopher McDonald) retorted with his own display of golfing prowess, reminding Adam that it's all about the short game – you drive for show and punt for the dough.
My response @AdamSandler pic.twitter.com/Wa4Y8lh6rJ

— Shooter McGavin (@ShooterMcGavin_) February 16, 2021
Ahh good. Looks like Shooter still eats pieces of shit for breakfast. Good to know he's still got his punt game on lock though.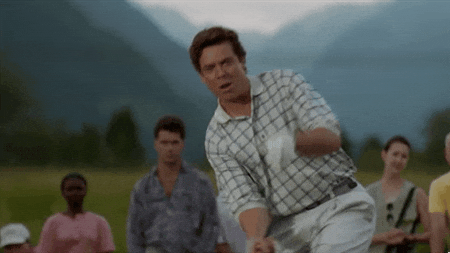 Sandler and McDonald weren't the only ones to dip back into their Gilmore/McGavin characters for the big day either, with Ben Stiller swinging in to congratulate Sandler on behalf of Grandma Gilmore's nursing home team – who probably should have their aged care qualifications stripped, let's be honest.
That's a beautiful swing Mr. Gilmore. Congrats on your anniversary, and being such a loving grandson. So happy to be a small part of taking good care of her during her "golden years". ????

— Ben Stiller (@RedHourBen) February 16, 2021
Lest we forget that handlebar moustache Stiller donned for his role as Hal L and his endless cups of Shut The Hell Up.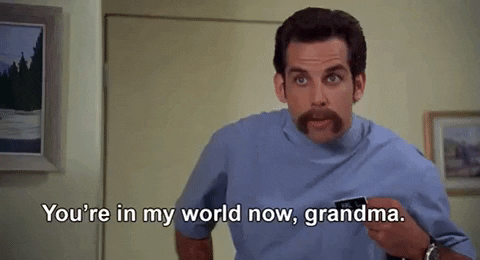 So there you go, they've all still got it. I'm gonna be thinking about Sandler's drive for a long while. Maybe it's time to hit up the driving range again.
Image: Twitter / @AdamSandler / @ShooterMcGavin_