Facebook may have decided that you shouldn't see the news, but we think you deserve to be served with PEDESTRIAN.TV's spicy content. To sign up for our daily newsletter filled with the latest news, goss and other stuff you should care about, head HERE. For a running feed of all our stories, follow us on Twitter HERE. Or, bookmark the PEDESTRIAN.TV homepage to visit whenever you need a news fix.
You spend your days slogging away at work in your lame, ordinary job but at night, you could transform into an international superstar using the threads from Disney's iconic series Hannah Montana.
According to Page Six, the costumes, props and tour items once used on the hit Disney Channel TV series are going up for auction next month.
As you'll remember from back in the day (or from last night if you're a super fan like moi), queen Miley Cyrus played Miley Stewart, an ordinary student by day and a world famous pop star by night.
The talented teen transformed from student to singer using a blonde wig and jazzy threads, all of which will be available for purchase online and at New York's Hard Rock Cafe on May 18 via Julien's Auctions.
Highlights of the auction include items from Cyrus's Best of Both Worlds tour such as a black satin jacket, pink tank top and customised high-top sneakers. There are also other numerous costumes that she wore on the show, which ran from 2006 to 2011.
And get this, all proceeds will go to the Wilder Minds charity, which aids the world's at-risk animals, a cause that's near and dear to Miley who is a known animal rights activist.
So not only will you own an iconic piece of television history AND have the ability to transform into a stylin' superstar, but you'll also be putting your dollarydoos to a good cause.
It's a win-win!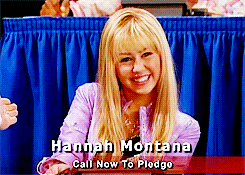 cheers bb x
If ya wanna get a visual of the threads you'll be buying, go ahead and binge-watch Hannah Montana via streaming lord Stan.