The noughties sure was the golden era of Australian television, wasn't it? Home & Away and Neighbours were peaking, reality shows like Big Brother were gripping the country and children's television was so goddamn good that even teenagers were unashamedly tuning in.
One that swims miles ahead of the rest (pun totally intended) is iconic mermaid series, H20: Just Add Water.
As the years have rolled on and you've gotten older and uglier, you may have forgotten about this wholesome yet spicy series but not on my watch, folks. I will never, I repeat, NEVER let people forget how fkn brilliant this show was.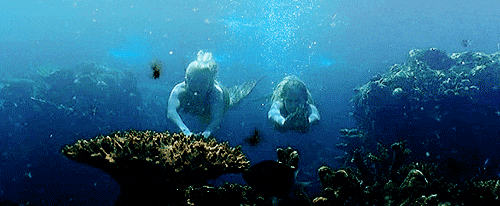 Despite premiering in 2006, I first started watching the show in 2010, meaning I was 16-years-old at that time. You read that correctly, a 16-year-old dude was watching a program aimed at literal children and I was as hooked as a barramundi.
The show was about three teenage mates, Emma (Claire Holt), Cleo (Phoebe Tonkin) and Rikki (Cariba Heine) who are accidentally transformed into mermaids after a midnight swim in a mystical pool.
Thanks to the moon's energy, the girls each develop a sick magical power (Emma can freeze water, Cleo can manipulate it and Rikki can turn it to steam), and are faced with the greatest challenge of their lives: they must avoid water at all costs or they'll grow tails, thus exposing their secret.
So as if all the other embarrassing teenage bodily changes weren't difficult enough to deal with, they now need to come up with excuses to call in sick when it's raining, withdraw from competitive swimming and refrain from doing something as simple as swimming at the beach.
The sheer suspense of the show's premise was entertaining enough, but when you add the real-life teen dramas that they were dealing with like boy troubles and bitchy school girls, you've got the recipe for an A+ TV show.
And that's what I loved about the show! The powers and the underwater scenes were absolutely sick but at its core, it's just a show about three teenagers trying to survive high school which is what made it so damn relatable.
The series also showcased the value of friendship and how important it is to have mates to get you through life which I really responded to. Sure, me and my friends aren't forced to hide indoors when the Full Moon's out (we do quite the opposite, in fact), but this show reminded us that we wouldn't stand a chance without each other, much like Emma, Cleo and Rikki.
Another super attractive aspect of the show for me, a kid from Sydney's western suburbs who had to plan beach trips weeks in advance, was that the show was set in the glorious Gold Coast.
The sunny, beachy setting just made you feel good inside, you know? As if I were standing right beside the girls as they discussed the latest qualm on the beach.
The show also gave me a deep appreciation for underwater life and aquatic animals. And no, I'm not just talking about mermaids.
Cleo was a dolphin trainer and was passionate about conservation which served as a lesson to people about protecting underwater wildlife.
It's also worth noting that comedy king Matt Okine had a supporting role in the series as Cleo's colleague, Ronnie the Dolphin trainer. TRUE STORY.
Sadly in season three Emma moves away which could've easily ended the series but nah mates, Indiana Evans came to the rescue as Bella, a mermaid with a fab singing voice who moves to town and befriends the girls.
As the remaining three mermaids graduated high school in season three, they made the wise decision to wrap things up then and walk out, I mean, swim out on a high.
The series had drawn such a huge audience and was so well received that it copped a spinoff, Mako: Island of Secrets with a new generation of mermaids (Rikki cameos in an ep, bless her) as well as a Netflix animated series called H2O: Mermaid Adventures.
If I'm honest, I haven't caught too much of the spinoffs and I reckon the reason for that is because I needed the mermaids as a form of escapism back when I was a confused high school kid, going through all the BS teens go through.
But to the next generation, and to anyone else who needs somewhere to drift away to after a shitty day, might I suggest Mako Island?