**WARNING: Major Grey's Anatomy spoilers ahead. I'm a 'yuge Grey's fan and I had to spoil something BIG so that I could write this. You're bloody welcome.**
Last week, Patrick Dempsey and Ellen Pompeo sent Grey's Anatomy fans wild by sharing snaps together on a beach while filming a scene for the new season of the long-running doctor drama series.
But the question on everyone's minds has been, how the hell could he possibly be returning when he died in a car crash?
Well, Patrick Dempsey has just given us some clarity and, brace yourselves, it's full on.
Okay, now here's a dance break to give you one last chance to exit this article before I drop the spoiler.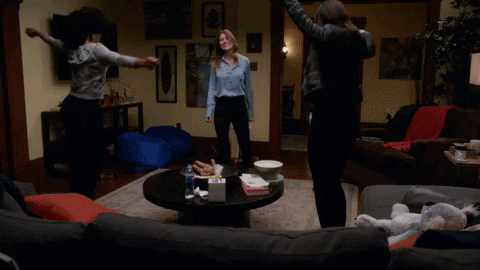 Meredith. Grey. Has. Coronavirus. Yep, your fave surgeon has been struck down by the real life virus that has spread across the globe this year.
And apparently his character Derek, who was married to Meredith before he died, returns in a "COVID dream."
"I was like, what a great opportunity for people and how great it would be for the fans, really, to see everybody reunited in this sort of bizarre way," the Grey's Anatomy actor said on the Ellen DeGeneres Show.
"And [showrunner Krista Vernoff] came up with this concept where I would come and visit [Meredith] in her COVID dream."
During the episode, Meredith passed out in the parking lot of the hospital after working non-stop amid the pandemic and reunited with her late husband on the beach.
During the 'Quaranstreaming: Comfort TV That Keeps Us Going' panel earlier this year, Vernoff revealed that COVID-19 would, indeed, be a major storyline in season 17.
"There's no way to be a long-running medical show and not do the medical story of our lifetimes," she said.
Pompeo recently shared a mask-clad pic from the set of the new season on Instagram.
"First time back in my scrubs… since we shut down filming 7000 healthcare workers have died from COVID," she wrote in the caption.
"I dedicate my season 17 to all who have fallen and to everyone of you who by the grace of God is still standing… this season is for you with humility and a bit of humour to get us through and endless amounts of gratitude. I hope we do you proud."
Grey's Anatomy season 17 will air on Seven next year. In the meantime, get caught up on the first 14 seasons via Stan.