After 21 years of simply not being entertained, the Gladiator sequel rumour mill has kicked up once again, this time with whispers that Russell Crowe and Chris Hemsworth have been discussing it.
According to an ~insider~ who spilled the tea to New Idea, the pair have been chatting about finally locking in a sequel to the huge 2000 Ridley Scott film, which was apparently sparked by Elsa Pataky noting how much the two stars could pass as family.
"She's often joked they could easily pass off as father and son," the source said.
"Russell thinks he could be the only man to credibly play his son in a Gladiator sequel."
Considering they've both been in Sydney working on Thor: Love And Thunder and Rusty's been taking the Hemsworths to Rabbitohs games, it's hard to imagine the topic hasn't been brought up yet.
It's not the first time a Gladiator sequel has been attempted, with Russell apparently commissioning Nick Cave to take a run at a screenplay with a plot that sounds truly fucking ridiculous.
In a 2013 episode of WTF with comedian Marc Maron, Nick Cave talked about how Russell approached him to write a screenplay for a potential sequel, after Ridley Scott revealed he was working on one that didn't involve Russell or the gladiators, but still set in ancient Rome.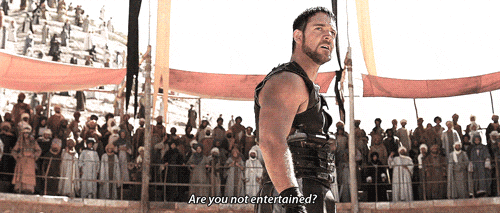 Nick said he questioned how Russell could even be in a Gladiator sequel, considering he very much dies in the first film (sorry for spoilers but also it's been 20 years, come on). Apparently, Russell just said "you sort it out", so he did just that.
"Well, that's where it all went wrong," Nick said.
"So, he goes down to purgatory and is sent down by the gods, who are dying in heaven because there's this one god, there's this Christ character, down on Earth who is gaining popularity.
"So the many gods are dying so they send Gladiator back to kill Christ and his followers."
It also apparently involved Maximus fighting in major battles across time, including WWII and the Vietnam War.
A sequel script to Gladiator was commissioned by Russell Crowe and written by musician Nick Cave. Gladiator 2 involved Maximus being sent back to Earth by the Roman gods to fight in World War 2 and Vietnam. It was not made.

— Quite Interesting (@qikipedia) May 12, 2019
Right. Okay then.
Who knows whether Rusty's whispers with Chris Hemsworth will revisit this truly insane Christ-killing Gladiator screenplay by Nick Cave (a cursed sentence in and of itself) but I guess time will only tell.
Image: Instagram / @elsapatakyconfidential