Sometimes when you're settling in for a movie night, all you really want to do is switch your brain off and have a good, deep-bellied laugh. Just really get rid of all your pent-up stress and worries with a rush of endorphins that you seem to only get from genuinely having a good cackle at something. But finding truly funny movies on Netflix can be a bit of a task, purely because there are just so many bloody films on there.
I took on the unenviable task of trying to pull together some of the best funny movies to stream – the ones that have definitely left me sobbing with laughter on the couch – to try and help narrow things down for you.
Between some total classics and others that are definitely a comedy dark horse, here is a non-exhaustive list of 10 of the best funny movies on Netflix. Don't worry, I'll be updating this as films come and go from the streaming giant, too.
10 Funny Movies To Watch On Netflix Right Now
Released – 2007
Starring Jonah Hill, Michael Cera, Christopher Mintz-Plasse, Bill Hader, Seth Rogen, Emma Stone.
A movie that gifted us McLovin and his particular interest in how much hhhhops are in a new range of beers (that he's definitely old enough to buy), Superbad is up there with one of the best coming-of-age films to emerge from the 2000s.
Written by Seth Rogen and Evan Goldberg during their run of goofy films like Pineapple Express, This Is The End, and Sausage Party, the very funny movie follows two best friends (and their third outcast mate) who are desperate to fit in and impress their high school crushes, which quickly goes downhill.
Superbad also gifted us Christopher Mintz-Plasse, Michael Cera and Jonah Hill in some of their first big-screen roles, or at least the one that very much put them on the comedy map. For that alone, I am eternally thankful.
Released – 2021
Starring Eric André, Tiffany Haddish, 
Eric André is pure chaos at the best of times, and his latest film – a hidden camera comedy – is all his most chaotic parts rolled into one and then chucked out on the street. If you've seen his surreal chat/sketch show, The Eric André Show, before, you'll have a pretty decent idea of what's in store. Essentially André (alongside the likes of Tiffany Haddish, Michaela Conlin, and Lil Rel Howery) blend together a scripted buddy-comedy road trip plot with pranking the unsuspecting public.
Much like Jackass, the set-ups for the prank gags don't ever punch down, but are more an observation on how people react when they're presented with a truly chaotic scenario, like Tiffany Haddish stealing a cop car by smashing its front window, ripping the entire door off, and then driving it straight into an art gallery.
Released – 2005
Starring Steve Carell, Catherine Keener, Paul Rudd, Seth Rogen, Leslie Mann, Elizabeth Banks, Jane Lynch.
Around the time he was Michael Scott in The Office, Evan Baxter in Bruce Almighty and Brick Tamland in Anchorman, Steve Carrell was also getting his chest waxed in The 40-Year-Old Virgin. In a movie that's both deeply funny and awkward at the same time, Andy Stitzer (played by Carrell) navigates trying to lose his virginity as a bordering-middle-aged man with frankly terrible advice from his workmates.
That waxing scene though, it's burnt into the backs of my eyelids.
Released – 2008
Starring Will Ferrell, John C. Reilly, Mary Steenburgen, Richard Jenkins, Adan Scott, Kathryn Hahn.
Released possibly at the peak of Will Ferrell and John C. Reilly's mainstream career – prove me wrong, please – this one's right up there with one of the great modern comedies and definitely one of the most funny movies on Netflix. Sure, it might not have as many quotes as Anchorman, but Step Brothers is definitely one I've referenced for a lot longer.
I mean, it's been 13 years and I still yell "this wedding is HORSE SHIT" about things on the reg, definitely dreamt about building my own bunk beds as an adult so I can have more room for activities in my share house, and yearned to host my own Catalina Wine Mixer.
Released – 2011
Starring Kristen Wiig, Maya Rudolph, Melissa McCarthy, Rose Byrne, Chris O'Dowd.
Is there anything funnier than Maya Rudolph in an expensive gown shitting in the middle of the street? Or anything better about a movie that leans in on poo jokes while also passing the Bechdel test? I'm yet to be convinced otherwise.
There's a reason why Bridesmaids is a movie I'll go back to time and time again when I'm in need of a big laugh. It was probably one of the first women-centred comedies I experienced that explored what relationships between women are truly like – crass, gross, and boisterous, yet still supportive and caring… though sometimes that's through a tough lens, too.
Co-written and starring Kristen Wiig, Bridesmaids is like the other side of the coin to the masculine comedies from Seth Rogen and his team – a style of women-led, rowdy, MA-rated comedy we need and deserve.
Plus we got to experience Melissa McCarthy trying to get a literal leg over a flight marshall, played by her real-life husband, Ben Falcone.
Released – 2019
Starring Beanie Feldstein, Kaitlyn Dever, Jessica Williams, Jason Sudekis, Lisa Kudrow, Will Forte.
What's better than a coming-of-age comedy than every single one we've seen before? When it's done from a woman's perspective. Like Angus Thongs and Perfect Snogging before it, Booksmart shows that it's not just the boys who wished they'd spent their high school careers with their noses in fewer books and in more parties. So what do you do when you've spent the last few years trying to prop up your adult life? Cram it all into one night, of course.
Released – 2017
Starring Ryan Reynolds, Samuel L. Jackson, Gary Oldman, Elodie Yung, Yuri Kolokolnikov.
Coming on recommendation from within the Pedestrian team as one of the top funny movies on Netflix, The Hitman's Bodyguard is a 2017 action-comedy starring Samuel L. Jackson and Ryan Reynolds. I'm not sure how I haven't seen this one yet, considering my deep love for everything Ryan Reynolds does, but here we are.
According to IMDb, the film follows one of the world's top bodyguards (Reynolds), whose newest client is a high-end hitman (Jackson) who has to testify at the International Criminal Court but also has a fuckload of people out for his blood. Seems like a fine and not at all stressful day at the office, really.
Judging from the trailer, it looks like it's got a similar energy to Ryan Reynolds' work in Deadpool – as much action as a John Wick film but with the classic comedy of side quips and frustrated dynamics between the hitman and his bodyguard. Oh, and Samuel L. Jackson saying "motherfucker" a hell of a lot.
Yeah, I'm going to have to watch this one as soon as possible, it sounds right up my alley.
Released – 1985
Starring Michael J. Fox, Christopher Lloyd, Lea Thompson, Crispin Glover, Billy Zane, Thomas F. Wilson.
An absolutely iconic classic this one – if you haven't seen this 80s sci-fi comedy classic, you're in for a real treat. Featuring wild-haired scientist Doc Brown and his wide-eyed grandson Marty McFly (sounds familiar), as they get thrown back in time to the 50s in a Delorean-turned-time machine.
The pair can only get back to the future if Marty makes sure his parents hook up, and without making too much of an impact on the past – though he apparently "invents" rock n' roll music. It's a bit daggy and has the kind of special effects from a classic 80s Stephen Spielberg film, but I'll gladly watch it time and time again.
There's also the theory that Marty actually rooted his own mum in the 50s and is actually his own father, which is a hell of an implication on time and space if you think about it too much. Great Scott, indeed.
Released – 1997
Starring Will Smith, Tommy Lee Jones, Linda Florentino, Vincent D'Onofrio, Rip Torn, Tony Shalhoub.
Possibly one of the best movies, in general, to come out of the 1990s is Men In Black – the other-worldly sci-fi comedy that imagines what life would be like if aliens live among us. And hey, perhaps they do and Will Smith has just neuralised everyone enough so that we don't remember seeing them.
Much like the UFO conspiracy theory, Men In Black follows the nameless sorta-government agents who deal with making sure humankind doesn't come into contact with the oodles of aliens that are all over the world. Tommy Lee Jones is Agent K, the gruff, unemotional senior to the fresh-in-the-job Agent J (Will Smith), and the two form a partnership trying to save Orion's Belt from the control of a giant bastard bug alien.
This film also has the best Rip Torn moment in it, which my best friend and I will quote to each other for the rest of time and is one of the sole reasons why MIB is one of the funniest movies on Netflix right now.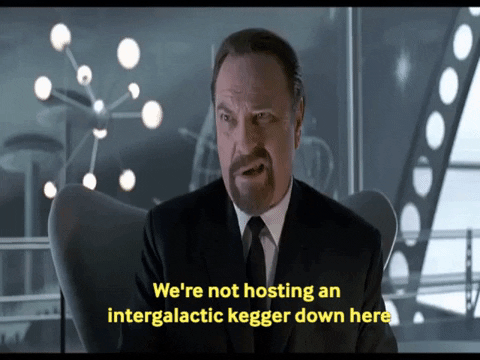 Released – 2014
Starring Nicole Kidman, Madeleine Worral, Hugh Bonneville, Imelda Staunton, Michael Gambon, Ben Whishaw, Sally Hawkins, Madeleine Harris, Samuel Joslin, Matt Lucas, Julie Walters, Peter Capaldi, Jim Broadbent.
Easily the best movie in the last ten years – comedy or otherwise. Paddington might be a kids movie but a 97% rating on Rotten Tomatoes is all you need to know. (I'd include Paddington 2 in my list too, but it's currently not on Netflix.)
It's about a cute bear (!) He loses his home in the Peruvian rainforest and then moves to London to find a new home (!!) and has to both navigate being a literal bear in a civilised city while also trying to not get captured by an evil taxidermist (!!!) It's honestly just such a perfect movie that gives you the warmest of fuzzies but also makes you laugh outwardly, with absolutely no shame. And yes it absolutely deserves its spot as one of the best funny movies on Netflix.
Released – 2008
Starring Jason Segel, Kristen Bell, Mila Kunis, Russell Brand, Paul Rudd, Bill Hader, Jonah Hill.
Look beyond the fact that you see full-frontal nudity – dick n' balls n' all – from Jason Segel literally in the first 10 minutes of Forgetting Sarah Marshall, because that just sets the bar for the rest of the film. From Jason writing self-deprecating jingles about his life being a garbage fire, to all the outlandish shit Russell Brand does as Jason's ex-girlfriend's new boyfriend, to Paul Rudd playing  to seeing Jason's dick again as a final bookend, this one gets me in stitches every time I watch it.
Jason Segel pissed as a fart drinking cocktails and exclaiming that he's Samantha from Sex And The City? Comedy gold.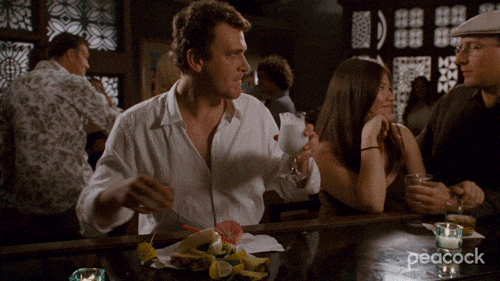 So there you have it, a whole bevvy of the funniest movies currently on Netflix for you to marathon and pee yourself a little. Are we surprised there's a healthy number of Judd Apatow films in there? Probably not. But I hope there's something in there that tickles your funny bone. Want more movie marathon inspiration? Head to our list of the best movies on Netflix HERE.