A sneaky someone who supposedly works in production has written in to gossip Insta account Deuxmoi with some scalding tea about the celebrities they've worked with.
We bloody love to see it and sip it (the tea, that is).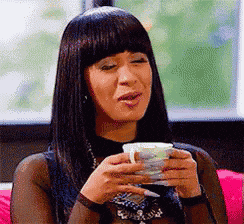 "I work in production, here's some tea on people I've worked with or my boyfriend has," the loyal Deuxmoi follower wrote, before rattling off a list of celebs with goss on each, both good and bad.
Let's get stuck into it now, shall we?
First up they wrote that the cast of Stan series Search Party was "really great, all so nice!"
The satirical dark comedy thriller stars Alia Shawkat, John Reynolds, John Early, Meredith Hagner and Brandon Micheal Hall and all four seasons are now streaming on Stan.
I recommend giving it a watch because A) it's a sick show, B) it's been critically acclaimed, and C) we love to support TV shows featuring "really great" and "so nice" people!
Next up they discussed Timmy C, who I'm assuming is Timothée Chalamet, who apparently "flirted with the crew, but was very professional" and why am I not surprised?
They were less complimentary about Reese Witherspoon, however, recounting an incident where she allegedly "yelled at her assistant over yogurt" in front of everyone on set. Yikes…
Dawson's Creek icon Joshua Jackson was described as a "king", "the best" and "so gorgeous," which is noice to hear, while Captain America Chris Evans was "charming," because of course he was.
And finally, Riverdale queen Cami Mendes is described in the blind item as "sweet" but "shy" and they concluded the messaged with one word for Real Housewives overlord, Andy Cohen: "vomit."
If, like me, you're a sucker for this kind of goss, have a read of the celebrity stylist who spilled piping hot tea on TikTok.
And then there's the ex journo who went rogue and dished on all of their celebrity interviews.
Oh, plus there's an LA restaurant worker who gushed about all of their famous customers, except for one famous jackass.
I'd also recommend chucking Deuxmoi a follow on Instagram for daily drops of tea. You're welcome.
Matty Galea is the Entertainment Editor at Pedestrian who also dabbles in woo-woo stuff like astrology and crystals and has been penning horoscopes since the start of his career. He also Tweets about pop culture and astrology and posts spicy content on Instagram.