The spooky season has rolled around once again and you've probz already received an invite on Facey to attend a horror movie marathon with your thrill-seeking pals.
The only problem is that the idea of sitting through Wolf Creek sends you into an absolute state of panic.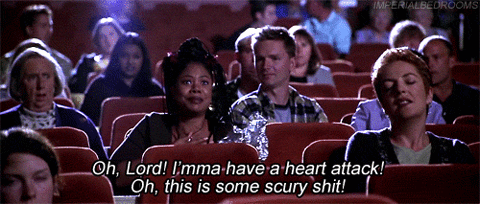 Here's a thought, decline the invite and send out one of your own: Comedy Horror Movie Viewing Party For Scaredy Cats.
'Round up your fellow horror-hating mates and join in the fun with mild scares and total LOLs via these picks on Stan.
Always wanted to watch iconic horror flicks like The Sixth Sense, Scream and Signs but too scared to sit through the whole thing?
Well then the Scary Movie franchise is the fright night pick for you.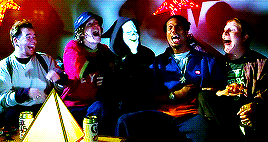 Each Scary Movie parodies a bunch of horror flicks and throws some hilarious pop culture references and celebrity cameos into the mix as well.
Some standout cast members and guest stars have included Anna Faris (Overboard), Regina Hall (Black Monday), Shawn and Marlon Wayans, Tim Curry (Charlie's Angels), Lindsay Lohan, Charlie Sheen and Molly Shannon (Will & Grace), just to name a few.
Four Scary Movie flicks are now streaming on Stan which is perf for a Halloween night marathon.
In my opinion, the scariest horror films are the ones that are somewhat realistic 'coz you can actually envision the events of the movie happening in real life.
But while the concept of Sharknado is nothing more than some bloke's fever dream, people who are moderately spooked by sharks (*raises hand*) will at the very least find the flick unnerving which makes it perfect Halloween viewing.
Synopsis-wise, what more do you need to know? It's all in the title.
A tornado of sharks terrorises the planet and a bunch of washed-up (pun intended) stars play characters fighting off the shitstorm, I mean, sharkstorm.
The heroes of the franchise who survive several sharknados in the three flicks include Ian Ziering and Tara Reid.
Yep, it's a ridiculous mish-mash of Hollywood stars fighting off a flying army of sharks. What a concept!
There are three Sharknado flicks on Stan so add them to your Halloween binge list.
If you're partial to a vintage flick, may we suggest this comedy horror gold from 1978?
As you can probz ascertain from the title, Piranha is about a river infested with terrifying genetically altered piranhas who threaten the lives of locals and visitors of a nearby summer resort.
The special effects are abysmal, the storyline is predictable, and the acting is subpar, but god does it make for some A+ entertainment.
This one is ideal if you're a total wuss 'coz the effects are so bloody dodgy but man, is it entertaining
Don't be fooled by the jokesy title of this flick 'coz the synopsis is bound to have you hiding behind a pillow on Halloween night.
Cooties, named after the schoolyard disease, is a flick about a group of teachers who fight to survive an outbreak among students that turn them aggressive and cannibalistic.
It stars Elijah Wood (Lord of the Rings), Rainn Wilson (The Office), Leigh Whannell (Insidious) and Jorge Garcia (Lost).
God it sounds ridiculous. I can't wait to watch it while I stuff myself with candy corn.
If zombies freak you out in a skin crawling way and not in a jump out the window way, then romantic zombie flick Warm Bodies is the perfect mix of creepy and cute.
Aussie model / actress Teresa Palmer plays Julie Grigio, a young woman who falls in love with a hot but undead lad named R, played by Nicholas Hoult (Mad Max: Fury Road).
It also stars Dave Franco (21 Jump Street) as Julie's BF and John Malkovich (Red) as her father.
Hoult won a Teen Choice Award for his role in the film and was nominated for a bunch of others, including Best Horror Film at the Saturn Awards.
It's 50% horror movie and 50% rom-com, AKA the flick of a light horror movie fan's dreams.
Mild scares? Check. Killer soundtrack? Check. Cute bois? Double check.
Yep, Supernatural is the complete package.
Introducing Sam (Jared Padalecki) and Dean Winchester (Jensen Ackles), two devilishly handsome brothers sworn to destroy the ghosts, demons and monsters of the world.
The series is perfect for you, the moderate horror lover, 'coz it includes some excellent freaky film components like jumpy scenes and spooky evil creatures, but the scares are at a level that's acceptable for prime time.
The brothers bring a boyish charm to the role and Dean's penchant for sarcasm and swear words will have you LOLing as you cringe over, say, a Bloody Mary attack (one of the scariest eps IMO).
Every episode is now streaming on Stan but if ya really wanna go Sam, we mean, ham with the theme, check out the Halloween ep It's the Great Pumpkin, Sam Winchester (S4E7).
Speaking of sassy, hot and powerful men, Preacher is another series that mixes up its spooky scenes with a few comical moments which makes it ideal Halloween viewing.
Jesse Custer (Dominic Cooper) is an alcoholic, chain-smoking preacher who develops an extraordinary power which leads him on a journey to better understand his gift.
The series received rave reviews from critics, with Rotten Tomatoes awarding it an approval rating of 89%, with an average rating of 7.64/10.
It's been praised for its sick mix of comedic and horror elements which is why it absolutely deserves a place in this article and on your trick-or-treat binge-list.
All four seasons are now streaming on Stan.