Fresh from defending all the galaxies from the murderous, finger-snapping, balance-obsessed psychopath Thanos in Avengers: Endgame (or not! No spoilers here…), Chris Hemsworth has jumped into his next equally important role of canteen duty.
[jwplayer PasZFS4t]
The father-of-three was spotted fulfilling his parental duty of working the canteen at a Byron Bay primary school alongside model missus Elsa Pataky and a bunch of other mums and dads.
The unfairly gorgeous couple were captured via Instagram Stories carrying Tupperware boxes full of food to the school's entrance then assembling the grub in the canteen for students to munch on at lunch.
The Tidelands star shared the videos on Instagram, writing: "Another dad to help in the canteen today," and "Always helpful to have a superhero in the kitchen."
Cop the glorious footage below:
Hemsworth and Pataky are parents to India, six, and twins Tristan and Sasha, five.
When the pair aren't jetsetting across the world being all ~Hollywood~, they are often spotted hanging out within their local Byron Bay community.
I'm sure his fellow parents appreciated the extra set of hands… and biceps.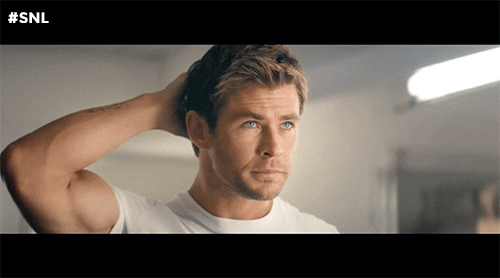 pls sir… could i pls have more?