For card-carrying Charmed fans like myself, news of an impeding reboot was taken with mixed emotions. Early rumours swirled that the new series might be a prequel following the adventures of the Halliwell sisters' mum, Patty, before she had daughters Prue (Shannen Doherty), Piper (Holly Marie Combs), Phoebe (Alyssa Milano) and Paige (Rose McGowan), who we obviously met in the OG series that ran from 1998-2006.
There were also whispers of a reboot that centred around the original four characters and their kids, and to be honest I was really here for that and the idea of Ghost Prue hanging around.
But US network The CW crushed all those dreams when they announced the reboot would focus on new characters who evidently had nothing to do with the Halliwells at all. Disappointing, but I'm listening.
Instead, the reboot will follow two sisters named Mel (Melonie Diaz) and Maggie (Sarah Jeffrey) who soon learn they have a third sis named Macy (Madeleine Mantock). The network has hyped the series up as being a "feminist" reboot, which is bizarre because wtf was the original if it wasn't about a bunch of ass-kicking women fighting evil?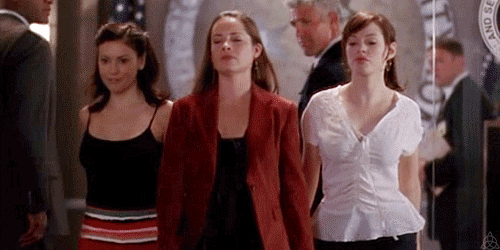 Anyway, we've finally been blessed with the first footage from the upcoming reboot, which will be hitting US screens in "fall". I'm taking that as sometime in September, which is the start of US ratings season.
It opens with Mel and Maggie's mum telling them that "you're better together, your differences are your strengths and nothing is stronger than your sisterhood." We soon see that she dies in ~mysterious witchy circumstances~, which leads the sisters to suspect all is not right with the world.
We also see that the gals develop weird new powers – Mel freezes time, Maggie can read minds – and a brand new sis, Macy, shows up on their doorstep. There's also a friendly neighbourhood whitelighter named Harry (Rupert Evans) who shows the three women The Book of Shadows.
Okay, now I'm screaming.
Cop the entire first-look footage below.
https://www.youtube.com/watch?v=loWpbevW9xg&app=desktop