Aside from her savage social media presence, her catchy bops and her famous feuds, rapper Cardi B is widely known for the, erm, let's call 'em the sounds that she makes, the most famous being, "Okurrr".
[jwplayer OTsaPCx1]
Following the 26-year-old's rise to fame, the catchy sound has really caught on and loads of fans and fellow celebs have added it to their vocab and Cardi wants to take back ownership of what she allegedly created.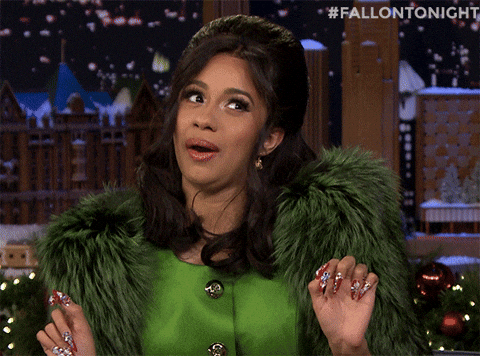 The Grammy Award winner has reportedly filed paperwork to trademark the slogan, according to E! News.
Documents obtained by the publication reveal that the star's company, Washpoppin, Inc. has taken the necessary legal steps to trademark the phrase to use for "paper goods, namely paper cups and posters," as it is described in the filing.
The singer recently filed to have it trademarked under "Okurr" with one less "r" on February 25, which was for "clothing, namely, T-shirts, sweatshirts, hooded sweatshirts, pants, shorts, jackets, footwear, headgear, namely, hats and caps, blouses, bodysuits, dresses, jumpsuits, leggings, skirts, sweaters, undergarments."
The rapper previously described it as "a cold pigeon in New York City" during an appearance on The Tonight Show last year.
The only drama here, in my eyes, is that the Kardashians are also extremely fond of the phrase.
Each member of the fam has been known to throw out an, "Okurrr" during episodes of Keeping Up With The Kardashians.
It's hella awkward 'coz like, how does one determine who was first to utter the sound?