When people talk about celebrity doppelgängers, they're normally adding a decent level of hyperbole. Like, both individuals might be blonde and kind of tall and then BAM – everyone starts calling them twins. But this, my friends, is not one of those occasions.
Earlier today famous-spawn-turned-aspiring-photographer Brooklyn Beckham shared some ~artsy~ snaps with his model girlfriend Hana Cross on Instagram, and there's one picture that has us shook to our very core.
[jwplayer x4Q6C1lV]
It all starts out innocuous enough, with Brooklyn reppin' some oversized glasses as he chills by the beach with his bae:
https://www.instagram.com/p/BsMAWMqHBnW/
One minute you're flicking through the black and white camera reel without a care in the world when suddenly you stumble across THIS picture:
Holy effing shit.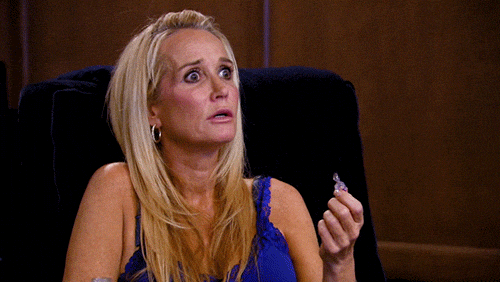 Brooklyn captioned the post with a simple red heart emoji and yep, there's an undeniable resemblance between Hana and Brooklyn's iconic mum.
For comparison, here's a very similar picture of Victoria, that was also taken by Brooklyn:
Um, WOW.
Maybe he has a preferred type of muse? Or perhaps he's trying to keep some kind of consistency on his Insta grid? Who even knows.
Photographers are like a completely different species as far as I'm concerned so I'm not even gonna pretend to understand what's going on here.
Naturally, the only thing left to do next was Insta-stalk this Hana girl to find if there are more Victoria-esque pics, or whether this was just a one off.
My findings, mates, were mixed.
While I couldn't find any more shots of Hana quite as uncannily similar to VB, there are still a handful of images where she bears a strong resemblance to Posh. But you be the judge.
Like here, she still looks pretty similar IMO:
https://www.instagram.com/p/Br0h6ynn8Nq/
And here:
https://www.instagram.com/p/Brf4ru3ng_i/
Aaaaand here:
https://www.instagram.com/p/BfjR2gVFXjd/
But then here, not so much:
https://www.instagram.com/p/BrV8THpHD79/
I'm so confused. Is this even the same person?
All I can say is, twins or not, I can't even put into words what I would give to be a fly on the wall if/when Brooklyn introduces Hana to his 'rents.
I would specifically appreciate a close up of David Beckham's face, when he'd inevitably pull the 'u srs bruh?' expression at Brooklyn.