There's a few things I don't understand in this world: how does the Internet actually work? What really happened to Harold Holt? And probably most importantly, how the hell has Brad Pitt been consistently peaking since 1989?
It not like he hasn't aged (like a Paul Rudd type), it's that he somehow just keep evolving into an even more handsome version of himself. I just don't get how this is happening.
[jwplayer z0khvLrA]
The world's had Keanu Reeves fever for a few months now, and I admit I have been guilty of referring to him as an "ageless thirst trap" in a published story. But I'm hitting pause on my Keanu obsession because Brad's back to reclaim his Hot Man Aged Over 50 crown.
You can thank director Quentin Tarantino for casting Brad in his new film once Upon A Time In Hollywood, because now Brad is bloody everywhere again. And it's pleasing to my eyes, because he's kinda kept a low profile ever since his messy split from Angelina Jolie in 2016 and telling the world he's a raging alcoholic and stoner in a 2017 GQ Magazine profile.
Just look at this image from the red carpet for Once Upon A Time that really set me off /  inspired this entire story. THE MAN IS 55 YEARS OLD, PEOPLE:
So I decided to go back through the archives on a deep investigative journey, starting with a movie called Cutting Class which was released in 1989, to determine whether he has been constantly peaking for a full 30 years. (Spoiler alert: he has, but just shut up and look at these GIFs anyway, okay?)
NB: I know there will be budding men's right activists in the comments saying "this is soooo sexist imagine if this was written about a woman, double standards Pedestrian!!!". Fellas, I say to you this: reverse sexism doesn't exist. I've been getting my period for 20 fucken years and I think because of that, I deserve to write this. Have your period just once, then we can talk.
1989
Brad played a character named Dwight Ingalls in Cutting Class, which is about a murderer on the loose in a high school and honestly sounds like a good time, movie-wise. And of course, he looked like this: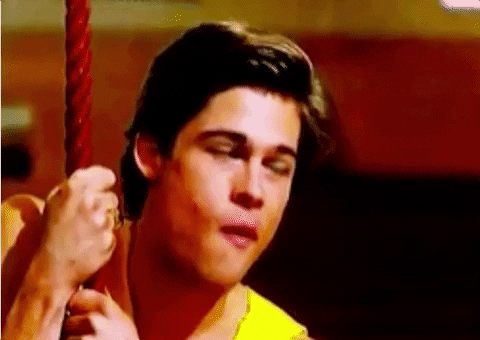 1991
I don't even need to justify this moment from Thelma & Louise with any words.
1992
I don't really know what happens in A River Runs Through It but I do know that Brad plays an old-timey, outdoorsy type and really rocks the Chesty Bonds.
1993
I love the movie Kalifornia because I enjoyed the Brad Pitt / Juliette Lewis era (they were together IRL around the time this movie came out), my other husband David Duchovny is in it, and Brad plays a psycho killer. Yay.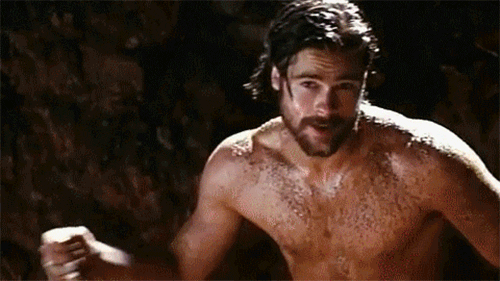 1994
What a year 1994 was for Brad. Interview With The Vampire came out, and I distinctly remember being wildly jealous of Kirsten Dunst who had her first fucken kiss at age 11 with 31-year-old Brad onscreen (a v. problematic turn of events that probably wouldn't fly these days). Anyway, absolutely fuck Robert Pattinson because Brad was the hottest vamp ever.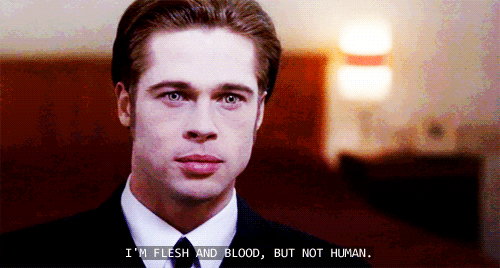 Also in 1994, literally the hottest Brad GIF ever happened in Legends of the Fall.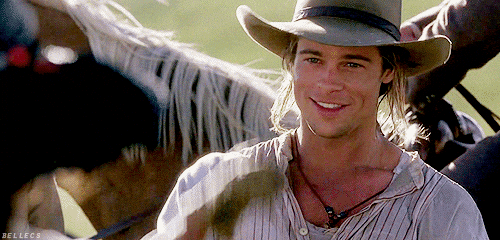 1995
Moving into brad and Gwyneth Paltrow era now with David Fincher's epic serial killer flick Seven. What's in the box? Who cares, look at Brad!
(But seriously the box bit is fucked, best to just look at Brad).
1996
Smoking is bad but Brad made it look good (sorry!) in Sleepers.

1997
Why did Brad Pitt have a pre-emo fringe complete with emo fringe toss in Seven Years In Tibet? We'll never know.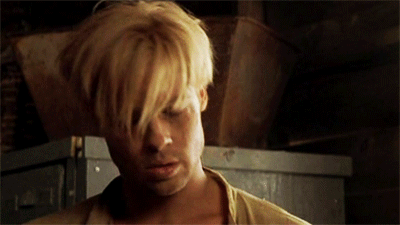 1998
I enjoyed the very 1998 blonde streaks Brad was rocking in Meet Joe Black. Even though he's literally playing Death in the movie.
1999
Yosssssss Tyler Durden be my imaginary friend / spicy alter ego too pls.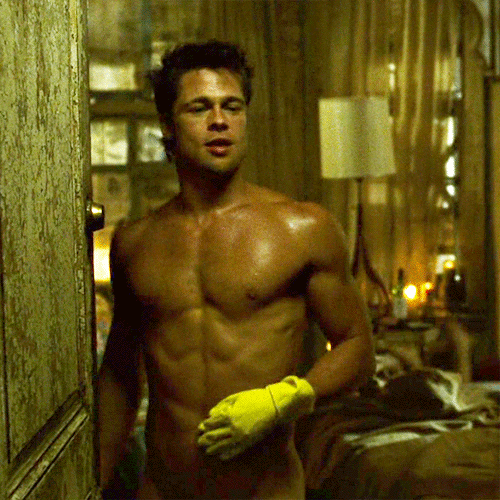 2000
You legit couldn't understand a word Brad said in Snatch but, hey, it didn't matter.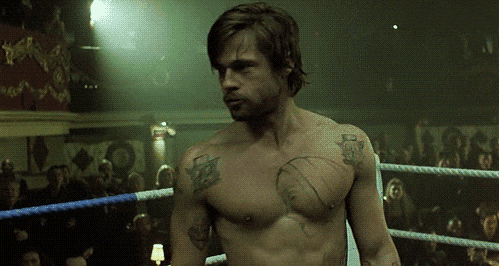 2001
2001 was huge for Brad, mainly because of his Friends cameo.
And also, Ocean's Eleven.
2004
After a coupla quiet years — maybe wedded bliss with Jen Aniston, I like to think — Brad came out with this doozy: Troy.
I mean.
2005
So it actually pains me to include Mr & Mrs Smith in my Brad Pitt Hotness Retrospective because it's the movie where he allegedly cheated on Jen with Angelina Jolie, so morally I don't want to support it, but also:
2006
I don't remember what happened in the movie Babel but I do remember Brad crying a lot and having a grey beard.
2008
Benjamin Button came out this year too but let's instead focus on the movie where Brad played a dumb personal trainer, because as if this ain't a forever mood:
2009
I had been angry at Brad for several years at this point because I was a Team Aniston sympathiser. But I had to see Inglourious Basterds because I'm a huge Quentin Tarantino fan, and let's just say I was once again converted to the Church of Brad.
2011
Since I know next to nothing about baseball, Moneyball kind of went over my head, but I stayed for Brad looking peak dad in this daggy activewear.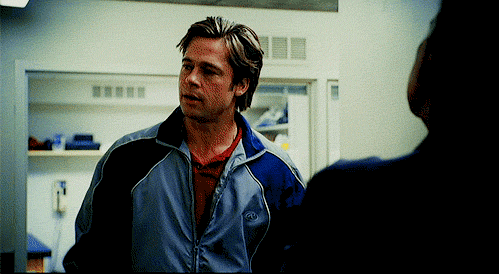 2012
I never saw Killing Them Softly. Maybe I will now.
2013
I would never have guessed that Brad would have one his highest peaks in 2013 as a 50-year-old man in World War Z, but clearly I underestimated him.
2014
Brad Pitt's character in Fury was nicknamed "Wardaddy" and I think I know why.
2015
I once went to a media screening of this movie and they gave us free French champagne and pastries. It was the highlight of the night, because the movie (co-starring Ange, they divorced the following year) was a turd. The other highlight: Brad's moustache.
2016
Brad's post-divorce movie was marred with accusations that he cheated on Ange with his co-star Marion Cotillard. No wonder it took him three years to star in another one.
2019
Okay so I haven't even seen this movie yet and everyone, EVERYONE who has seen it, hetero men included, tell me that Brad is peaking yet again.
In Conclusion
I think I have given you adequate, hard, irrefutable proof that Brad has somehow consistently maintained a level of gloriousness for 30 goddamn years. I think I reached my peak at 17 and was out of it by 17 and a half, so Brad, I envy you. I don't know how the man does it, but let's not question something so beautiful.