The Instagram gossip-monger account Deuxmoi spills tea all day, every day. This is literally its bread and butter. Is all of it true? Fuck no, and can anyone write in with said unsubstantiated tea? Yes they can. You have to take whatever is posted on there with a grain of salt, so consider me positively crunching on organic Himalayan pink rock salt while I process the shocking "news" that perennially hot actor Brad Pitt is dating Swedish singer Lykke Li.
I immediately decided to investigate this vicious felony, because I'm nothing if not a dedicated detective when it comes to Brad Pitt's social life. Join me on this wild ride!
In case you're not sure: who is Lykke Li?
Lykke Li is a 35-year-old Swedish singer who had a bop called 'Get Some' in 2010 that was used in every teen show that was on telly at the time — think Pretty Little Liars, Vampire Diaries and Teen Wolf. She also lent her vocals to Mark Ronson's more recent hit 'Late Night Feelings'. Lykke has a son named Dion who was born in 2016 — his father is Lykke's ex, producer Jeff Bhasker. She also has her own line of mezcal called Yola, which I'd like to sip on, thanks very much.
Okay, now for the good stuff…
Is Brad Pitt dating Lykke Li?
Let's consider the evidence, which is extremely sparse. See, sparse could mean it's not true, but it could also mean that Brad and Lykke are just good at covering their tracks.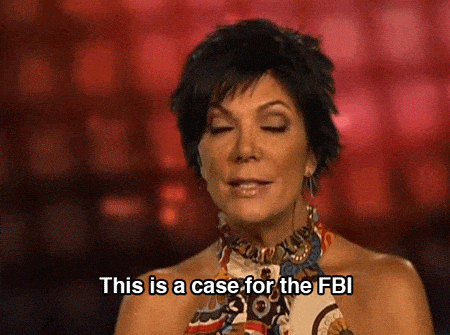 The Deuxmoi submission
Earlier today, Deuxmoi posted to its IG story a message from someone named Sasha Fierce — which is safe to say is likely a pseudonym, as I don't believe Beyoncé spends her precious time writing to Deuxmoi — a short and sweet email saying that according to a Swedish podcast, Brad Pitt is currently bumping uglies with Lykke Li. That's it, end of email.
It has just enough info to be tantalising. For starters, it has actual names, it's not a blind item saying "an older but still incredibly hot US actor is dating a thirtysomething LA-based Swedish singer". Secondly, it drops this apparent source: a Swedish podcast. To Google I went!
The Swedish podcast
In classic detective story areas, I have come to believe the Swedish podcast here is a red herring. It's dropped in the Deuxmoi email to bolster Sasha Fierce's claim and give credence to the tea that Brad Pitt is dating Lykke Li. It sounds legit, but then when you do some digging it's just a dead end. I searched Lykke Li's name in Apple Podcasts to see if she was mentioned in the synopses of any recent pod episode, and she isn't. Sure, this could be a Swedish gossip podcast and not actually one Lykke was a guest on, but the fact that Sasha Fierce doesn't even give us the name of the podcast smells very, very fishy to me. Herring-scented, in fact. As my colleague Zac said when we were discussing the post: "You can make up anything and get away with it if you say you heard it on a Swedish podcast. In fact, I'm gonna do that from now on."
To be fair, even if Sasha had dropped the name of the podcast I wouldn't have been able to verify anything because I don't speak Swedish, but still. It's weird to me that in an anonymous gossip submission you wouldn't just… say the name of the thing.
Brad Pitt and Lykke Li's current relationship status
While the post does seem fishy, after some googling it does seem our handsome leading man is indeed single. The last romantic rumour concerning Brad Pitt was back in August 2020, when it was widely reported that he was dating 27-year-old German model Nicole Poturalski. While neither of them ever confirmed the romance, some outlets reported in October that they had split.
Since then, it's been quiet for Brad. The most recent goss I can find on him is from a fortnight ago when RadarOnline said he'd been seen flirting with actress Andra Day. So it seems the man is quite available.
As for Lykke, since she's not Brad Pitt levels of famous her dating adventures aren't as widely covered. But according to one of my personal favourite websites, Who's Dated Who, Lykke is "currently single". So it definitely seems like the pair ~could~ date if they felt the urge to, given that they're not currently linked to anyone else.
Do Deuxmoi users plant gossip?
As I said earlier, as much as I adore Deuxmoi and all the tea, blind gossip and joy it brings me, I simply can't believe everything that is posted on there. The account's manager just reposts these submissions straight to IG stories without vetting the info or verifying any of the claims. They're just put out there for us to either believe or dismiss.
To that point, my colleague Alex believes some people who submit to Deuxmoi simply do it to see if they can start a rumour out of nothing, or as she puts it: "I have this theory that someone is trying to 'prove' anything can be spread via Deuxmoi." That's why I had to investigate rather than take this story as gospel.
The verdict
I think I have to agree with Alex here, that it seems too suspicious to be a true story. I admit Sasha Fierce was smart by sourcing their gossip to a Swedish podcast. They were also extremely clever to pick the man that we all love to speculate about and have loved to speculate about for literal decades, meaning that the gossip is newsworthy. And the fact that his supposed love interest is someone as left-field as Lykke Li makes it seem almost believable. ALMOST. But not quite.
That being said, if anyone reading this is Swedish and listens to gossip podcasts, please do hit me up.