Last night, the first season of the revamped Big Brother went out with a bang, with international model Chad Hurst taking out the title.
Former Housemates from across the country gathered for the epic finale and when the official proceedings were donezo, they had one helluva shindig that's been documented on social media and suffice to say there'll be a few sore reality star heads today.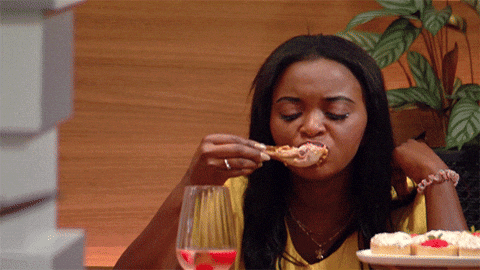 The Housemates at KFC right now having a hangover feed. (Credit: Seven)
Following the finale, the cast went out to a Sydney bar where they absolutely ran amuck and the footage is priceless.
Talia Rycroft and Casey Mazzucchelli broke social distancing rules to share a smooch in a video posted to the blonde's IG Story where she also alleges that the pair frequently "hooked up in the house."
Here's a screenshot for ya:
Credit: Instagram.
And they're not the only ones who macked on, Xavier Molyneux shared a pic to his IG of a kiss between him and his "hot Aunty" Garth Saville.
Again, breaking social distancing rules.
Here's where it gets especially cooked: Casey shared vids from inside the boy's toot where she, Xavier and Mat Garrick used the urinal together and, ah, I don't think they're doing it right.
It's still up on Casey's Insta Story so check out the clips ASAP before she comes to her senses and deletes them.
In the meantime, here are some screenshots:
A good time was had by all, by the looks of things. Even less popular Housemates like Kieran Davidson (who was not so affectionally nicknamed 'Cockroach') and Soobong Hwang (who was booted out fairly early) got in on the action.
Observe:
Oh brother.