Oh shiiiiiit! Give whoever's in charge of convincing people to reprise their roles in reality TV franchises at Channel 10 a god damn raise, because if these pics are to be believed, they've got Stage 5 clinger / possible quite nice bloke Jarrod to sign on for Bachelor In Paradise.
The Daily Mail reports that the 31-year-old Bachelorette runner-up was snapped in Brisbane Airport about to board a flight to Nadi in Fiji.
They say that a "source" (love those sources) told them that Jarrod was "going away for a few weeks."
He doesn't know where he's going, [the Bachelor producers] just said to get to the airport.
He reportedly flew from Melbourne to Brissy in order to avoid suspicion, but it's probably just as likely that the flight was a bit cheaper (or that it went through Queensland on its way to Fiji anyway).
If the Mail is to believed, that means that the vineyard manager is heading back to the site of his dumping at the hands of Australia's sweetheart Sophie Monk – a bit of a kick in the love-nads for sure, but when you're as hell-bent on finding The One as Jarrod appeared to be on The Bachelorette, I'm sure it's worth it.
Should he actually have agreed to participate in the Bachie all-stars event, he'll be joining six already-announced former contestants, including Tara Pavlovic and Keira Maguire, as well as (it's rumoured) fucken Blake Colman. There was no love lost between those two blokes on this year's Bachelorette; while everyone's ostensibly heading to Paradise to find love, we all know they're really there for the drama, and that pairing promises to bring it in spades.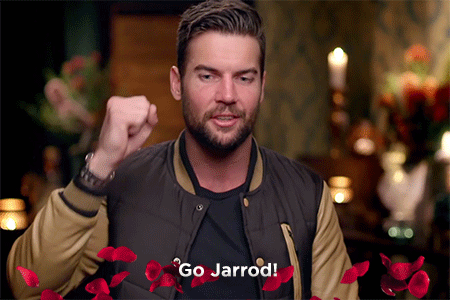 Please, reality TV gods, PLEASE: let this one be real!
Source: Daily Mail