Here I was sitting at my desk in quite the foul mood this morning, and then I stumbled across maybe the best news ever: that new reboot of The Baby-Sitters Club that was in the works? It's coming to Netflix. If you're anything like me, you grew up devouring these books like they were cheap candy (the kind of candy Claudia Kishi would hide in her bedroom, am I right?), and also had the board game, watched the 13-episode 1990 TV show, and complained about the casting in the 1995 movie.
Mates, I was so into the BSC that in school holidays I'd dress as a different character every day, just for fun. I lived for this shit.
Anyway, according to The Hollywood Reporter, Netflix will be airing the 10-episode series with the airdate still unconfirmed — though we checked with Netflix Australia and they confirmed it's a global series that we'll be getting Down Under.
The streaming service's vice president of kids and family, Melissa Cobb, was quoted by THR as saying:
The themes of The Baby-Sitters Club ​still resonate 30 years after the original book series was released, and there has never been a more opportune time to tell an aspirational story about empowering young female entrepreneurs. Together with Ann M. Martin and the team at Walden Media, our ambition is to contemporize the storylines and adventures of this iconic group of girlfriends to reflect modern-day issues.
Back in May last year, we first reported via Deadline that the TV reboot was in the works, based on Ann M. Martin's downright classic book series and featuring all the characters we know and love / tolerate (Mallory Pike, seriously).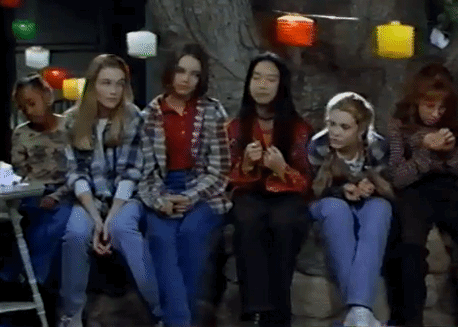 Judging from Deadline's report and Cobb's statement, it seems the series will be set in modern times, rather than the delightfully 90s setting featuring many high-waisted jeans and scrunchies.
According to Deadline, storylines will revolve around the group navigating life and dealing with some ~serious issues~, including "racism, divorce, and belonging while continuing to push the bar and explore relevant issues facing modern-day teens."
It was also confirmed that former Broad City director / writer Lucia Aniello is on board as director and executive producer, as well as Rachel Shukert – who has worked on GLOW and Supergirl – as showrunner.
Look at all that girl power. Kristy Thomas would be so proud.