At the end of last year, our love for Kris Jenner grew exponentially (if that's at all possible) when she basically took the piss out of herself by playing fellow Momager, Regina George's mum in Ariana Grande's 'Thank U, Next' music video.
Little did we know, the whole thing was documented via the Kardashian / Jenner reality series, Keeping Up With The Kardashians and your girl Ari makes her debut on the E! series where she shows the 63-year-old how to dance and let me tell ya, it's a real sight to see.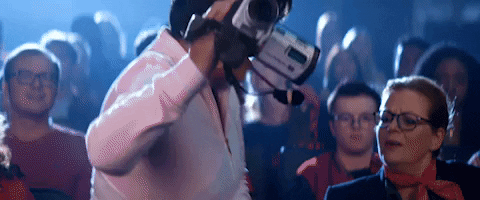 us rushing to watch the clip
The scene shows Jenner and Grande's first meeting and they are understandably v. keen to come face-to-face with one another.
"I feel really excited to make my Ariana video debut," Kris says before Grande, all tizzed up as queen bee Regina, walks in and hugs her.
"I love the pink lip," Kris compliments Ari who then reveals that "it's Kylie's."
"She walked in with a Kylie box, like, this big," Grande explained to someone in the room using her arms to show how large the makeup kit was before noting she started "crying her eyes out" and put all the makeup on.
Ariana goes on to tell Kris about the other scenes they've filmed for the vid, including Legally Blonde and Bring It On-inspired moments, before Kris practices some of her helicopter parent dance moves.
Grande in the 'Thank U, Next' video
"This is the first time that I've ever been in a professional music video with an iconic artist and someone I admire very much," Kris gushed in a confessional after her interaction with Grande. "I don't want to let Ariana down. No, no, no."
Kris revealed that the Woolsey Fire was ripping through California at the same time that the video was being filmed but despite this, "The show must go on."
Grande was equally excited to be featured on Jenner's show. "I'm so excited to make my Keeping Up With the Kardashians debut!" She said.
Catch the interaction below:
Image: KUWTK