It's no secret that Ariana Grande loves a tatt. In fact, the girl is rumoured to have over 30 of them, ranging from words to numbers and symbols and her latest choice of ink has a face… and a tail… and multiple evolutions.
[jwplayer xCDzqVIu]
Did I lose you with that last one? Well for those among us who haven't been flexing their Pokémon know-how via the popular app Pokémon Go, lemme remind you of an adorable little angel bb named Eevee.
The normal-type critter from the first gen has been prized for its ability to transform into multiple different evolutions, including a tattoo which Grande has chosen to ink on her arm.
The pop star unveiled the sick tatt via Instagram, writing:
"I've wanted this for so long, thank you sm."
She also professed her love to the beloved creature on Twitter, writing:
"Yesterday I had a day off and I played Pokémon. Let's go Eevee for fifteen hours. Honestly."
https://twitter.com/ArianaGrande/status/1084552803995930624
Considering Eevee has a total of eight (8) different evolutions including Vaporeon, Jolteon, Flareon, Espeon, Umbreon, Leafeon, Glaceon and Sylveon, wouldn't it be WILD if he somehow transforms over time on Ari's arm?
Into something like, dare I say it, Grandeon.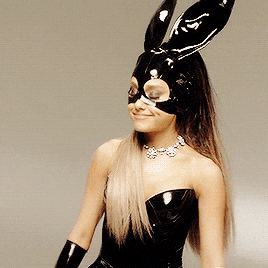 so THAT'S where the bunny ears came from
@ARIANA: from one die-hard Pokémon stan to another, thank you for making Pokémon totally badass.