Not speaking from personal experience or anything, but I can imagine that after your engagement busts up, especially in an extremely public way, the absolute LAST thing ya wanna see as you scroll through Instagram is pics of wedding-related paraphernalia like engagement rings.
Unfortunately for Ariana Grande, Insta doesn't currently have a way of filtering out these kinds of awful reminders and the newly single star copped a post by The Zoe Report called:
'13 tips and tricks for finding the perfect engagement rings (including popular metal you should actually avoid).' Welp, she got the avoid part right!
After spotting the post, Grande simply but pointedly commented, "Don't".
Not sure if she means 'don't' as in don't even or 'don't' as in don't bother finding a perfect engagement ring.
After all, the singer absolutely has a right to feel bitter after the way things ended.
Following the pair's unceremonious split a few weeks back, her ex Pete Davidson mouthed off on Grande in an episode of Saturday Night Live.
In the ep, the comedian and musical guest Maggie Rogers made light of the breakup.
"Hey Maggie, I'm Pete."
"Hey Pete."
"You wanna get married?" Davidson asks.
Her response is blunt and to the point: "No."
"O for three," Davidson says to camera.
Following this unfortunate clip, Grande took to Twitter to blast her ex in a now-deleted tweet.
for somebody who claims to hate relevancy u sure love clinging to it huh

— Ariana Grande (@ArianaGrande) November 2, 2018
thank u, next

— Ariana Grande (@ArianaGrande) November 2, 2018
— Ariana Grande (@ArianaGrande) November 2, 2018
Not to mention the fact that Grande is no longer in possession of her engagement ring as she reportedly returned the whopping $130,000 (US$93,000) rock to her ex.
So basically poor Grande's desire to avoid all kinds of wedding talk is absolutely justified.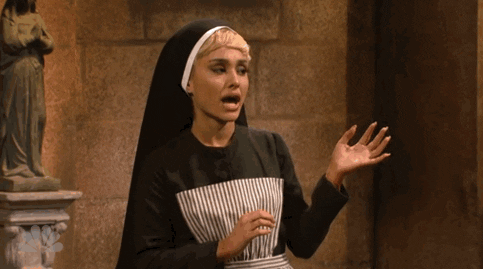 Image: Getty Images