I feel like even when it's off season, there's always a buzz surrounding American Horror Story as people speculate which creepy themes the next season will explore, which previous cast members will return and which new ones will grace our screens. But nothing is really ~*official*~ until FX release its first teaser and guess what folks? It's here…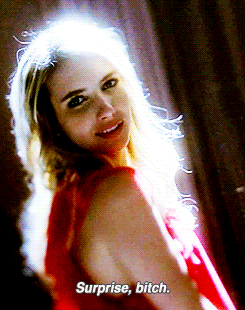 We already know that the upcoming eighth season of the horror anthology series will be a crossover between seasons 1 (Murder House) and 3 (Coven) and the trailer is the perfect mashup of both.
The main focus is an unborn demonic child which no doubt represents Michael Langdon, the devil offspring of sadistic teen Tate Langdon (Evan Peters) and his rape victim Vivien Harmon (Connie Britton) whose development in an hourglass womb signals the end of the world. Hence 'apocalypse', got it.
From there, we see a woman in a plum nightie wearing a gas mask who survived the cataclysmic blast only to have her black skull be snatched by a terrifying black hand (Langdon, perhaps?).
The hand slices what looks like a fruit open and a black and a white scorpion climb out and start attacking each other which could very well be a nod to Coven which heavily discussed the topic of race and the war between the black and the white witches.
A bunch of crows then fly through the stain glass window of a church (which the superstitious among us will recognise as a harbinger of doom) to reveal an inverted pentagram that is then dragged into flames along with a bunch of black skulls.
The clip ends with the black demon hand turning the hourglass to allow the sand to fall, signalling that the end is nigh.
Cop the entire fright fest below and get started on your doomsday prepping.
It's time. #AHSApocalypse pic.twitter.com/z2FO9tKCZm

— AmericanHorrorStory (@AHSFX) August 6, 2018