There he was – Alden Ehrenreich, our young Han Solo doing an interview with Entertainment Tonight when creeping up behind him comes Harrison Ford, the Han Solo we all know and love. There were shrieks, there were tears (from me) – but most importantly there was Harrison telling Alden to "get out of my chair, get out of my light."
And what makes it even more glorious?
Alden losing his absolute shit and insisting he sit on a lil' booster thing on the floor. This certainly isn't the first time the two have met but mates, Alden's reaction is the only way to go when you clasp eyes on the original Smuggler, Scoundrel, and Hero.
Oh, and then director Ron Howard is casually there too.
You may have already seen this floating around the galaxy but damn it, it's bloody adorable so let's relive it:
Watch Harrison Ford surprise Alden Ehrenreich during his interview with @ETNow at the Solo: A Star Wars Story junket. #HanSolo pic.twitter.com/Dn5QxCsuwk

— Star Wars (@starwars) May 13, 2018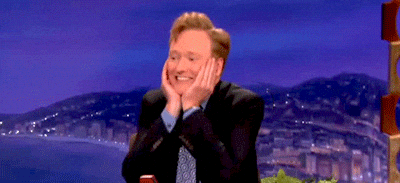 Tag yourself – I'm the reporter trying to be part of the crew.
Alden had been sitting down to talk Solo: A Star Wars Story when Harrison was just casually "in the neighbourhood" and decided to drop by.
Solo tells the story of how Han met Chewie, his best mate and co-pilot, and how the two crossed paths with Lando. Throw in some wit and an epic heist in galaxy and you have a highly-anticipated movie.
So far, first reactions for the film have been pretty good with critics taking to their twitter to boast standout performances by both Alden and Donald Glover who plays a young Lando Calrissian. It's one helluva job to step into Han's shoes but Alden has apparently pulled it off.
The film also stars Emilia Clarke as Qi'Ra, Paul Bettany as Dryden Vos, Thandie Newton as Val, Woody Harrelson as Tobias Beckett, Joonas Suotamo as Chewie, and Jon Favreau as Rio Durant.
Yahoo Entertainment senior reporter Kevin Polowy said of the film:
#SoloAStarWarsStory is reaaaaalllly good. Fun as hell. It's a straight intergalactic heist movie, kind of refreshing to see a Star Wars movie w/o a Death Star or the rebellion's fate at stake. Alden Ehrenreich is super impressive as Han, but L3 might be my favorite new character.

— Kevin Polowy (@djkevlar) May 11, 2018
Kevin, was one of many critics who attended the premier in Los Angeles, the one that had the Millennium Falcon parked outside.
Just another Millennium Falcon being built on Hollywood Blvd… pic.twitter.com/rxYPAJ3Qm3

— Eric Goldman (@TheEricGoldman) May 10, 2018
Speaking of which, if you're keen to relive some hype before the film hits then please re-enjoy the hell out of Donald Glover giving you a tour of the Millennium Falcon.
Solo: A Star Wars Story will land in Aussie cinemas May 24.