We've been blessed with freaky as fuck teaser after freaky as fuck teaser and now we've FiNaLlY copped our first look at the American Horror Story: Apocalypse characters in action via the freshly released trailer.
It begins with sirens and a man's voice saying "it's the end of the world."
Then Joan Collins, Evan Peters and Leslie Grossman are seen looking shocked on a private jet that suddenly crashes, after which the world appears to end.
Alexis, dat you?
We then see scenes from Murder House and Coven with the signature AHS font that reads: "Murder house … Coven … Collide … They're back with a vengeance."
Queen supreme Cordelia (Sarah Paulson) looks concerned as she struts through Miss Robichaux's Academy alongside current council member Zoe (Taissa Farmiga) and revived council member Myrtle (Frances Conroy) before being joined in the mist with Madison (Emma Roberts) who utters her ~iconic~ phrase: "I bet you thought you'd seen the last of me."
The supreme is ready to fuck shit up with her righthand (wo)men
Madison and Myrtle have presumably been revived by their supreme
Surprise biiiiiiitch
Suss out the full trailer below and try your fkn hardest not to lose your damn mind!
A glimpse of what tomorrow brings… #AHSApocalypse pic.twitter.com/FXjxZLjwAM

— AmericanHorrorStory (@AHSFX) September 4, 2018
Also joining the coven of witches are Gabourey Sidibe (Queenie), Lily Rabe (Misty), and Stevie Nicks (herself, the white witch) as well as Jessica Lange, Kathy Bates, Evan Peters, Billy Eichner, Leslie Grossman, Cheyenne Jackson, Billie Lourd, Billy Porter, and Adina Porter.
The Coven Returns. What a thrilling night with the legend Stevie Nicks on the set of AHS. pic.twitter.com/wsI1FlfN1W

— Ryan Murphy (@MrRPMurphy) August 19, 2018
AHS: Apocalypse will hit FX in the U.S. on Wednesday September 12 with no word on when or how it'll drop here in Australia.
Stay tuned!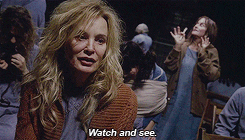 Image: American Horror Story