One of the major appeals of Ryan Murphy's TV series' is the nostalgia element as he's renowned for surprising fans with the return of beloved characters as seasons go by. I am, of course, referring to the return of the Coven and Murder House characters in American Horror Story: Apocalypse but if rumours are true, a character from another one of his masterpieces could also be making a crossover.
[jwplayer RfLMYyUD]
Remember Scream Queens? That sassy sorority series starring Emma Roberts, Lea Michele, Billie Lourd and Ariana Grande (for a hot minute)? It went absolutely viral with its unexpectedly savage first season then brought in the likes of John Stamos and Taylor Lautner for the second season and switched the setting to a hospital which completely lobotomised its charm, leading to the show's cancellation.
But despite this, the GIFs and memes from the series continue to trend online, namely the epic one liners served up by Roberts' character: Chanel Oberlin.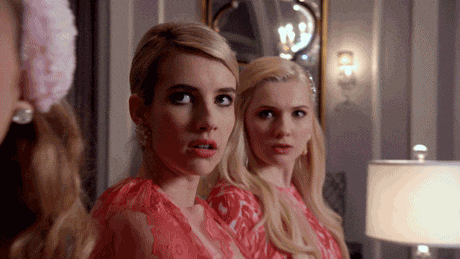 Fans are convinced that the fabulous but evil character will make a surprise appearance in AHS: Apocalypse after Roberts was spotted on set sporting a v. Chanel-esque look.
Sure, she's already been confirmed to come back as Madison Montgomery but the outfit that she wears in an outdoorsy scene is all pink and pretty, very unlike the all-black that the telekinetic witch wore in Coven.
Take a look at her lewk riiiight HERE via Cosmopolitan and just tell me that that's not Chanel as fuck.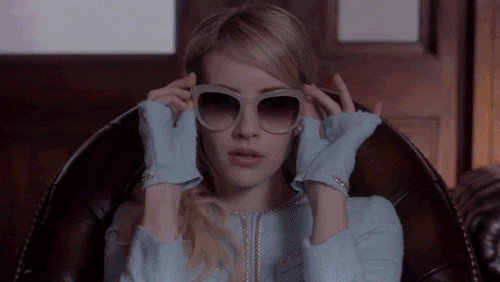 Another spot of proof is that a stylist who worked on Scream Queens has signed on to do Apocalypse which isn't totally suss as she probably scored the job after SQ was canned, BUT she posted the following photo of a white and fluffy clutch that Miss Montgomery wouldn't be caught dead with (no pun intended 'coz she low-key dead).
It is, however, extremely Chanel appropriate.
"She's back," she captioned the photo, adding to the theory that it could be Chanel's epic return.
Credit: Twitter
It's been a much discussed topic online that Emma was included in the opening titles of Apocalypse while her Coven co-stars (aside from Sarah Paulson and Evan Peters) are mysteriously absent, meaning that she must receive more airtime throughout the season.
Joining the blonde babe in the opening titles is Billie Lourd who starred in SQ as Chanel's sidekick, Chanel #3 so it's quite possible that the sorority sisters could make an appearance together.
i mean, who even liked chanel #5 anyway?
While neither Murphy nor Roberts have teased a crossover of any sort, AHS star Taissa Farmiga recently told us that there would be some surprise guests this season that'll blow our damn minds,
"You're going to see a lot of familiar faces that you're going to be excited to see and some you may not even expect," she said.
Here are just some of the reactions to Chanel's possible cameo in AHS.
If Emma Roberts is Chanel on ahs I'll lose my shit no crossover could be it

— chloe (@chloeivyshaw) September 16, 2018
https://twitter.com/uncovre/status/1041529980851642368
There are rumors that Emma Roberts will come back at AHS as Chanel Oberlin. Best season yet? IT'S A YES FOR ME! #AHSApocalypse

— raulynne (@rauyourboat) September 16, 2018
Emma Roberts is gonna play Chanel AND Madison in AHS Apocalypse ??

my disordered ass is ready to be triggered

— golden (@dyingtobony) September 15, 2018
omg a chanel cameo in ahs??? sign me TF up

— arvinzy (demon twink era) ★ (@GIVENCHIQUE) September 14, 2018
https://twitter.com/pineandbone/status/1040349950981431300
Stay tuned, coffee donkeys.