After being together for nearly a decade and not a single peep about their relationship, Adam Brody has gushed madly about Leighton Meester, and how the awkward indie king of The OC fell in love with the elite NYC socialite from Gossip Girl. As is to be expected from Seth Cohen himself, it's very bloody cute.
Adam jumped on Anna Faris' podcast, Unqualified, and talked about a bunch of things about his life, like surfing and teaching his kids the realities of death and grief, and when he first met Leighton some 15 years ago in a deli in Los Angeles.
During years where Adam spent a lot of time at Canter's Deli in downtown L.A., he said he was introduced to Leighton and the rest of the Gossip Girl cast by Josh Schwartz, who produced both Gossip Girl and The OC.
"Literally the first time we met, that whole cast was eating at Canter's, and I lived at Canter's for like, my entire 20s," he said.
"As I was leaving, [Josh] introduced all of us, and then I bumped into her two or three times over the years."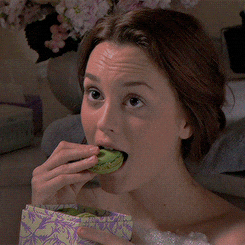 After that subtle meet-cute, Adam then met Leighton again when they worked on The Oranges together in 2011. He said that they had some chemistry then, but he was seeing someone else at the time.
"We met kind of through mutual work friends off and on, and then we didn't get together about a year after that movie when I was single," he said.
"I was very attracted to her from the jump. She's a heavenly creature. I thought she was gorgeous. And even when we did the movie, there was chemistry there, but I was seeing someone."
He also noted that he couldn't get a good read on her in those brief interactions in the early years of kinda knowing each other, and assumed she might have been a bit of a dick thanks to the Queen Bee role she played on Gossip Girl. Excuse me Adam, we do not judge a book by its Upper East Side cover, thank you.
"I had no idea whether she was a good person or not," he admitted.
"In fact, [I] kind of assumed she probably wasn't for like, the first handful of years that I didn't know her, just because, I dunno, Gossip Girl."
But as he got to know Leighton, Adam said he began to realise just how much she actually is a good person, and now sees her as his "moral compass", who isn't rude to anyone except when paparazzi push it too far.
"She is the strongest, best person I know," he said.
"She is my moral compass and North Star, and I just can't say enough good things about her character. She's never been rude to like a single person in her life, except—and I give her credit for this—paparazzi, where I'm too self-conscious."
"People will try to get her to sign some sexy old photo or something that aren't fans but they pretend to be fans. She has no problem being like, 'You can hate me. I don't care.'"
Goddammit, Adam Brody, I need to go lie down in a dark room and listen to Death Cab for Cutie's Transatlanticism really loudly and have a big cry now. Thanks for that.
Image: Getty Images / Scott Everett White