There's so much stupid advice about job interviews on the internet. Our number one tip? Ignore it all.
We have no magic trick or secret code to nailing each and every job interview. But there are tried and true ways to prepare: here are ten ways to help put you at the top of the pack.
1) RESEARCH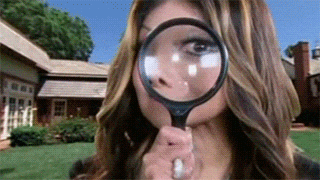 You gotta know the place inside-out, way beyond their homepage. Read up on them, either from press releases or reports on earnings/recent shakeups. Then, memorise.
It's bloody impressive to drop in a stat or two into conversation: it shows you know the company and you take initiative/care in what you do.
Study it like it's the HSC and you're bloody desperate to get into Monash/Sydney Law despite going to a public school where your ATAR will likely be scaled down. Not that I'd know anything about that.
2) PREPARE LOGISTICS
This sounds dumb, but have you looked up transport to the interview? Parking? Have you worked out what you're wearing? What will the weather be like? Is it on the first level, or will you have time to check our your appearance in the elevator upon arrival?
These are all tiny things to have sorted beforehand. Then, on the day, you can focus on being your bright self.
3) CHECK YOUR SOCIALS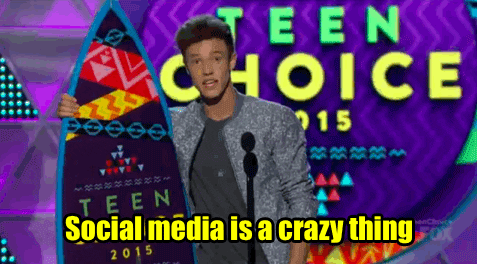 Wise words from Cameron Dallas, teen person whatever.
If every tagged Facebook photo features a drink-in-hand, you might want to hide a few.
Search through your tweets/other social accounts using apps like Social Sweepster to see if you've ever said anything 'rude' or contro about the company/industry/people you'll be working with.
Actually, maybe make your twitter private, because it's probably laden with irony and jokes that make no sense outside of your timeline.
It's frustrating, but that's the world we live in.
4) BE READY TO TALK ABOUT EVERY TINY POINT ON YOUR RESUME
Once, I was asked in an interview for a media job about what being trained as a "Sandwich Artist" at Subway entailed, so I rambled about cheese tessellation for a minute. I did not get the job.
Being quizzed on your resume doesn't mean you repeat what's on there. You should build on it, giving examples of skills you learnt and challenges you overcame. And if you don't have anything to say, consider culling it from the CV altogether.
5) DON'T TRY TO BE FUNNY UNLESS YOU ARE FUNNY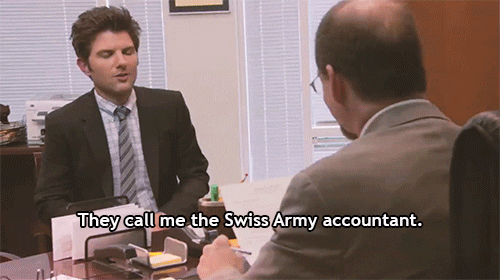 Speaking from experience, nothing's worse than a joke falling flat in an interview. Having said that, read the room! Maybe your goofy accounting joke will land you the job.
6) KNOW WHAT YOU WANT
Much like a late-night Grindr binge, you should head into a job interview knowing what you want. What does your dream job look like? Are you after convenience and a casual atmosphere? Internal opportunities for growth? Mentorship?
Have your own mental checklist of bonuses and non-compromises, since you'll spend 40+ hours each week there and you deserve to be happy.
You deserve to be happy.
7) PREPARE QUESTIONS
Image credit: ABC
Never have nothing left to ask at the end of an interview. Even if you've had the sickest i/v OF ALL TIME, having no questions leaves things on an anti-climactic note.
Quiz them on specifics: what's the day-to-day of the job like? Who is your potential manager, and how does the team operate? It shows you're thinking of the realities of working there, not a future notch for your CV. Here are heaps of example questions.
8) DON'T FREAK OUT IF YOU'RE STUMPED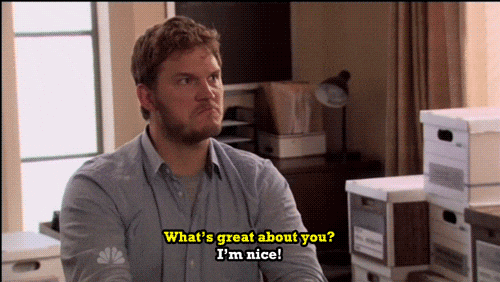 Interviewers love a good curveball, some hypothetical bull about a riddle or ethical situation you'll never encounter. These are stupid, mean nothing and are purely a weird power-play of superiority, imo. But you gotta answer them.
So take your time. Don't rush it, and think out loud. It'll show you're not afraid to ponder over something, rather than brashly reach for the first thing you think of.
Or… you could read this Quora thread about all the stupid things people get asked and copy the answers.
9) KNOW THY WEAKNESS
"What's your greatest weakness?"
You know it's coming, so why not be prepped? Convention says you should try and turn to a positive, but saying "sometimes I work too hard!" only makes you sound like a poorly-circuited parody of a person. Don't do it!
Be honest, but not too honest. Admit a time when something went wrong because of, for example, your lack of attention to detail, then make a point of showing how you learnt from it.
10) IF YOU DON'T GET THE JOB, ASK WHY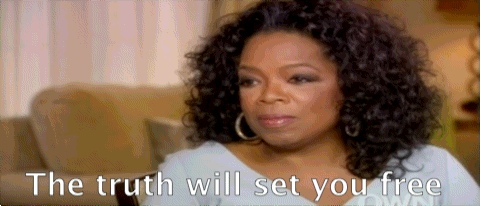 Feedback is so, so useful, and most places will offer you at least a few sentences on where you could improve. Interviews are a game, an incredibly un-fun game you can only get better at in practice.
Good luck!
PS. Don't ask about the pay in the first interview. I know it's dumb, but for some reason, we have to all pretend that we work for the Pure Thrill Of Labour.