If there is anything better in this world than going on a winery tour and pretending to seriously check the 'legs' and taste the 'woody notes' of locally made wines, I am yet to discover it. Can you imagine how much joy you'd have in your life if you took this little hobby that you and I both know most of us share and turned it into a legit career?
Probably about as much joy as Louella Mathews, Head Sommelier at Bibo Wine Bar and currently creating a whole new wine with buddy and winemaker Nadia Wellington in Canowindra, New South Wales.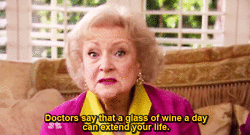 But what the heck does a Head Sommelier actually do?
Louella says they're "basically somebody who looks after everything beverage". That covers everything from knowledge about each wine, to wine service (aka. presentation and serving of the wine), to pairing wine and food. So they're basically the people you'd really love to be friends with any time you throw a dinner party.
Obviously, this sounds a lot like living the dream and we're all ready to change our career paths, yes? Or is that just me? Either way, you can follow Louella's study path at TAFE NSW, where they have a whole wine school, The Sydney Wine Academy, dedicated to educating wine fanatics from across the country.
"It's really an introduction to the wine world," she says, "When you smell wine for the first time it's hard to smell anything but grape juice. It's like anything, practice makes perfect."
I'll take any excuse to 'practice' wine tasting.
Does making a career out of your wine obsession sound like a dream? Discover everything you need to know about with the range of professional wine courses available at TAFE NSW.