If there's anything more potentially awkward then approaching your boss for a raise, then I haven't come across it yet and I don't care to. However it's also just a part of work life, and sometimes you deserve it, sweety. So for those times, how the heck do you go about it? We begged Adam Scully, Business Coach at ActionCOACH to guide us.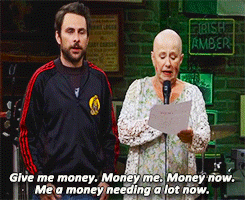 Preparation
Let's start with WHEN you should ask for a raise. According to Adam, don't set a new meeting, just wait for your performance review. Once you get there, you'll want to be prepared.
"Prior to your periodic review be sure to have the necessary evidence to support the reason why you 'deserve', not just 'want/need', a raise. Put yourself in the shoes of your manager. What more can you do to help them in their job?" suggests Adam.
"Do your homework and think about what the potential objections could be to your request. How would you answer those objections? How can you address those objections in your initial request? What have you done that has gone the extra mile?"
"Information such an exceeding KPI's requirements, consistently exceeding targets, taking on additional responsibility, etc. Identify ways you've earned money for the company through sales, upsells or creating efficiencies. Numbers are very convincing."
When You're There
During your actual meeting, you want to bring all that evidence and keep it factual. Just be careful of how you're coming across.
"Be sure that you don't give an ultimatum unless you're willing to lose the job," Adam recommends, "Your request should not come across as a demand as you should try to stay on good terms with your boss even if they say no."
Also, be prepared for negotiation rather than a straight yes.
"You can't expect to receive a raise without being asked to take on additional responsibility or requirements," says Adam "The company has to receive some additional benefit to be giving you a raise."
"Make sure whatever requirements you are given are specific and are measurable. Then justify their decision to give you a raise by exceeding."
What If They Say No?
Yep, even with all your preparation, there's always the possibility they'll say no, and that's ok.
"Don't be discouraged by a no," says Adam "Use this as a perfect opportunity to find out what you need to do in the future to increase your chances of receiving a raise."
"Ask them to set some specific goals, KPI's, targets for you to achieve within a fixed timeline. Agree on an interim performance review to cover these specific goals. Your reaction and response to receiving a no will show how you receive feedback and how serious you are to do what is necessary to take that next step."