PEDESTRIAN.TV has teamed up with Jack Daniel's, served in fine establishments and questionable joints worldwide.
I once had a fleeting brush with life on the other side of the bar. It was a trial shift in a joint called The Cock Tavern in London (standard) and it did not end well.
Aside from being the shittest pourer in both hemispheres, my deafness also prevented me from actually hearing a word anyone was saying, so in the space of three hours, I gave six people the wrong drink. If you ever need a black eye in a hurry, give a gruff Irish bloke a vodka soda.
Still, I learnt a few key life lessons in that short amount of time. Firstly, that I cannot pull off a buzz cut and patrons at a bar will definitely have thoughts on the matter, and secondly that you need a very specific skill to bartend. It's a bloody art, mates.
So, I chatted to a few chaps and chapettes who are deadset killing it in the industry.
Sonya, Nineteen at The Star
Currently slingin' bevs at Nineteen at the Star in QLD, Sonya has been in the game for bloody yonks.
She said, "I was given a chance by my friend who used to manage the bar at an R'n'B nightclub. It was very intimidating as I had little knowledge of bartending. My friend told me that if you like to drink, then you know how to bartend. Sure enough, I was able to pick up on how to make the drinks for the customers."
While I can wholeheartedly disagree that not all drinkers are natural-born bartenders (see: me), clearly you need to be passionate about all things bev-related to excel in the industry. Well, that, and being able to hold your own when things get dicey.
"In my opinion, most bartenders have been through at least one nightmare situation within their career. It's important to make sure customers and staff are safe and have pre-planned steps to ensure the prevention of a similar situation happening again."
A few tidbits for those starting out in the industry? Research and an affinity for positive vibes.
"At the end of the day remember to enjoy it. Sometimes you can't avoid stressful situations, as long as you can stay positive, then it will help with dealing with issues. It also helps to do the extra research. Having additional knowledge on making cocktails and bartending techniques will help tremendously."
Fave drink: "Negroni or an Old Fashioned."
Kevin, Garden State Hotel
Like Sonya, Kevin has also been kicking 'round the bartending world for a time-and-a-half. So much so that he's now at the point where he's showing other bartenders the ropes.
Kevin divulged, "As I've gotten older I've started to train younger people in the industry. It's an amazing feeling when you see a bartender you have trained starting as a bussie and being able to handle themselves on a busy Friday or Saturday night's service."
Of course, you don't get to a place where you can impart wisdom on your (eventual) successors without going through the ringer yourself.
"I remembered freaking out on a Friday night service because I was making so many LLB's and they would froth up so much, and the LLB tickets would keep coming in. First time in the weeds and I'll never forget it."
Yes, I did have to Google what an LLB was. (Lemon, lime and bitters for my fellow drink novices.) If you also have reservations about cracking into the bar industry, Kevin's here to give you hope.
"I finished high school with no plans of studying. In fact, no plans at all… and my mother said, 'I don't mind if you don't study, but you have to work full-time.' Not knowing anything at all about the industry, my brother's mate Patrick was running a restaurant and said 'send him to me, I'll put him to work.'"
We all need a Patrick in our lives, tbh.
Fave drink: "Negroni – just too damn easy to drink."
Blake, Loop Rooftop Bar
Blake, a mainstay at Melbourne's Loop Rooftop Bar, credits bartending for helping him come out of his shell.
He said, "My favourite thing about hospitality is how much I've changed as a person. I used to be a very shy kid during my teenage years, so I owe it all to bartending. To be honest, I probably wouldn't be able to make conversation or be in this spot right now!"
After discovering a niche lil' cocktail bar in Japan when he was fresh outta school, Blake became inspired and hasn't looked back seven years on. However, bartending still comes with its challenges.
"One night during a huge rugby game, a fight erupted in the middle of the bar. I couldn't do anything but make sure no one grabbed any glasses or bottles to escalate the situation and to sit steady and wait for security."
"I think the hardest part of bartending is to keep your head up high when times are tough. To keep calm when chaos hits is the most difficult part."
Despite the occasional rugby-related brawl, it seems to be worth it.
"You can make someone's night by teaching them a heap load about a range of bourbons or cocktails, or even buying a local bartender a shot because she's had a rough night. The laneway is such a tight-knit crew, shout out to the Golden Trapezoid kids!"
Fave drink: "Daquiris are my spirit animal."
Rion, Fitzroy Beer Garden
Rion's first experience as a bar-hand is honestly what nightmares are made of and the second-hand embarrassment is bloody palpable.
Rion admits, "On my very first shift I was backing through a door with a rack of glasses without looking, and I slammed into my general manager carrying three plates of food for a table. He dropped the food, I dropped the glasses. Still surprised I kept the job, and still have a great relationship with the GM."
Or, you know, this one:
"I almost knocked a patron out with my bar blade by swinging it around my finger behind the bar. It flew off and hit a patron in the head – I hid behind the coffee machine."
Although Rion may have pissed off one punter, he's made some pretty close relationships with people who he didn't inadvertently attack with a bar blade.
"I have a regular gentleman who has been coming to my pub for years and years and the relationship built between us has now extended to outside of work, having dinners and going to local footy games together."
There also seems to be a pretty similar mentality held by every bartender, and that's to remain as unphased as possible.
"For people wanting to start out and choose hospitality as a career, I'd tell them to not be scared of doing the hard yards but also know your worth. Always stick around for a beer or chat at the end of your shift with the crew and really commit to the job as a whole. There's always negativity surrounding jobs but you need to avoid paying attention to people who are trying to bring you down."
Fave drink: "An Old Fashioned using Jack Daniel's Single Barrel Rye, mixed down with a splash of cherry and bitters is perfect for me."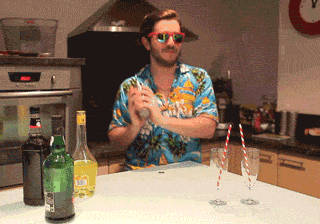 Every bartender I've ever met has a bangin' personality, so if you reckon you wanna get into the field, I'd suggest working on being an 11/10 human – anything's possible.
Image: Supplied