PEDESTRIAN.TV has teamed up with McCain to give you busy bees some convenient and affordable meal inspo.
Problem numero uno: We're forever hungry, constantly grazing on everything and anything that crosses paths with us. (Literally not sorry 'bout it in the slightest.)
Problem numero dos: We're also busy hustling for that coin, forging paths for ourselves as young, ambitious professionals who are dedicated to the career sesh. I mean, we're all CEOs in the making, after all.
But this means we're always strapped for cash and time, which can often result in subpar meal decisions.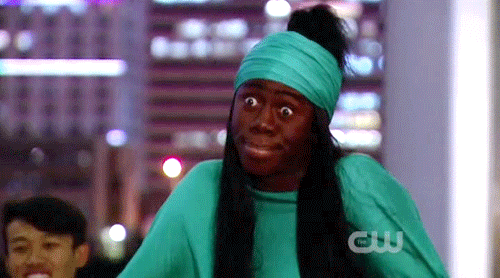 This is where our mate Kath Ebbs comes in.
We've asked Kath to provide some meal ideas that are convenient, affordable and easy peasy. These recipes result in some noms that can last a few days, giving you more time to focus on that grind… and to satisfy that grazing mind of yours. For more quick 'n' nutritious meals, take a peak at McCain's Oh My Veg range.
Now let's deep dive into the wonders of delish food. Click on brekky, lunch or dinner below, and we'll take you to Kath's recipes that combine a little bit of fanciness with whole load of convenience. Foodporn, what's good? Kath, take it away, pal.
Breakfast – Vegan choc banana pancakes
Lunch – Sweet potato boats
Dinner – Glazed salmon salad
Breakfast
Vegan Choc Banana Pancakes
Creates 2 portions (If you want to create more portions for any of these meals, simply double the ingredients)
You will need:
1 ripe banana

1 1/2 tbs of coconut oil

3 tbs of maple syrup, coconut sugar or brown sugar

1 1/2 cups of rolled oats

Teaspoon of baking powder

Pitch of salt

1 cup of milk of choice
Optional caramel sauce…
3 tbs of Tahini

5 tbs of maple syrup
Method
Place your banana, melted coconut oil, maple syrup (if using) and milk into a bowl. Mash together.
Blend your rolled oats until a flour-like texture is formed and then transfer into bowl.
Stir together your oat flour, sugar (if using), baking powder and salt. Now add your wet ingredients and combine.
Place non-stick pan on medium heat. Pour a pancake portion (roughly 1/3 cup) onto the pan and leave to cook until bubbles start to form on top. Once they have, you know it is ready to flip. Flip pancake and then leave until both sides are nice and golden brown.
Repeat until you have no batter left.
Stack your pancakes as you wish, then top with your caramel sauce or some fresh fruit or simply some maple syrup… or all of the above!
Lunch
Sweet Potato Boats
Creates 4 portions
You will need:
4 medium to small sweet potatoes (or as many as you plan on serving)

Olive oil

Pink salt

2 medium avocados

Lemon juice (1 x lemon)

2 packs of Oh My Veg Mexican street corn
Method
Preheat oven to 190°C.
Pierce sweet potatoes with a knife down the middle, drizzle olive oil on top and sprinkle salt.
Pop them into the oven and bake for 50 minutes.
Add your avocados, lemon juice and some salt into a bowl. Smash with a fork and leave to side.
Once your sweet potatoes are cooked, leave them to cool for 10 minutes. Slice them down the middle – almost like a bread roll – and fill them with your smashed avocado.
Grab your Oh My Veg Mexican Street Corn mix and cut a 2-3cm opening along dotted line on pouch and place upright inside microwave. Heat for 3 minutes on high, then carefully remove pouch from microwave and allow to stand for 2 minutes. Cut remaining pouch and scatter mix in and around your sweet potato boats ready to serve!
Store the rest in the fridge to snack on when the grazing calls.
Dinner
Glazed Salmon Salad
Creates 4 portions
You will need:
4 fillets of fresh salmon steak

8 tbs of olive oil

Lemon juice (squeeze 2)

4 cloves of crushed garlic

4 teaspoons of chilli

4 tbs of Coconut sugar (sub: brown sugar)
Method
Preheat oven to 180°C.
Place your olive oil, lemon juice, garlic, chill and coconut sugar in a small mixing bowl and stir.
Place a sheet of tin foil onto a baking tray and place salmon on top. Tip up the sides of the sheet and then pour your glaze on top. Place another sheet of foil on top and seal.
Pop into the oven for 12-15 minutes.
Grab your Oh My Veg packet mix and cut a 2-3cm opening along the dotted line on pouch. Place upright inside microwave and heat for 3 minutes. Carefully remove pouch from microwave, allowing to stand for 2 minutes. Then cut remaining pouch.
Once salmon is cooked and veggies are ready, it's time to plate up!
This bad boy will stop you grazin' on those munchies… for a minute.
Image: Supplied