Dunno about you but one thing I'm really missing while being stuck in isolation for the last however-fucken-long is just sitting in a bar and knocking back a few cocktails. I miss sitting in the afternoon sun at a rooftop bar, I miss tucking myself away next to the fire in a small bar, I miss going to out of the way bars because they do two-for-one cocktails and they're cheap as hell. Sadly I'm not a ~mixologist~ so I grabbed what I have at home and tried my hand at some real lazy cocktails.
You put a thing in a drink and stir it up? That's a cocktail, and I refuse to hear otherwise.
Crush up some fruit and herbs and pour over a premix drink? That's also a cocktail, thanks.
So here are a few creations that I've either dreamed up while in iso, or found around the traps, that go really well with a premixed bev. I've got a few rogue bottles and tinnies at home, glaring at me, taunting me, so that's what we'll go for in these recipes.
You've got all week to practice these so you can impress your mates on TGIF Zoom bevvies on Friday arvo.
(NB. Please do not shake up a bottle of premix in a cocktail shaker. It's carbonated. My brother made this mistake once, and the whole thing exploded all over the kitchen. It was very funny.)
Supremely Lazy Cocktails To Make At Home
Lazy 'n' Stormy
We all know a good Dark 'n' Stormy is made with ginger beer, dark rum, and lime, right? Well you've pretty much already got 2/3 of them in a single bottle of rum and dry, right?
Just squeeze a wedge of lime over some ice (maybe muddle it in if you want), add a splash of ginger beer for some sweetness, and top up with a Kraken Rum and Dry. Stir with the least-dirty knife you can find in the drawer, or your finger.
The added spice in the Kraken rum will probably give it a bit of flavour complexity, and shoving a slice of lime onto the side of the glass will definitely make you feel a bit fancy.
Dirty Mojito
A good mojito is like sipping on pure summer sunshine, so why not throw together a slacker's version as we're about to duck into winter. Lazy cocktails in the cooler months? Why the fuck now.
Muddle some lime wedges and mint in the bottom of a tall glass or jug, and pour over some Canadian Club and dry from the tin. I know it's uncouth, but what the hell. It'll probably be pretty sweet so top it up with some soda water if you like.
Garnish with mint leaves and a wedge of lime.
No Frills Punch
This one's pretty basic, just chuck together some fresh fruit juice some vodka soda and lime tinnies like these Vodka Soda & ones, or UDLs, maybe drop in some more booze if you've got something stashed in your pantry, and a bunch of sliced up fruit. Maybe oranges? Strawberries if they're not $40 a punnet right now?
Rum N Ginger N Bitters
Haven't tried this one before but I'm gonna try it this week because I'm now obsessed with lazy cocktails that are as no-fuss as possible.
I reckon just a splash of bitters on crushed ice, maybe a sprig of lemon thyme, and top it up with a tin of spiced rum and gingey b like the Brookevale Union one. Might be a bit tart, but who doesn't love being a little bit of that, huh?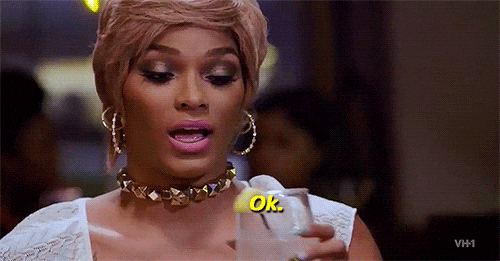 Fancy Up A Cruiser
Dump a Vodka Cruiser into a nice chilled glass with some ice and fruit, a crazy straw, and one of those little parasols. This one is my favourite, because it's a little fancy to the eye, but just a sweet little secret to your mouth.
Good luck, bottoms up, let me know how you go.
Image: NBC / The Office