Gin. A booze that has had the biggest renaissance in the last decade, transforming from a spirit that your nan would drink at family dinners, or a drink that makes you real emo and want to write sad-ass poetry, into one of the biggest summer-weather bevvies. Throughout the gin-aissance of the late 2010s, where the humble gin and tonic made an insane comeback, many distilleries were jumping on the boozy bandwagon.
Making gin is a process of distilling botanicals alongside juniper in a base spirit, so could you essentially make it at home?
In a word, yes.
What Is Gin?
Gin is a neutral base spirit that's distilled with various botanicals (read: flowers and stuff), fruits, and whole spices, with juniper being the only essential botanical that must be included as the main ingredient. Apart from that, you can pretty much go wild with whatever you want to steep in your base booze.
According to VinePair, the first known written record of the word 'gin' appeared in a book dated 1714 by one Bernard Mandeville, which goes on about how the name 'gin' came about, likely thanks to a bunch of trollied British people.
"The infamous liquor, the name of which deriv'd from juniper-berries in Dutch, is now, by frequent use… shrunk into a monosyllable, intoxicating Gin," he wrote.
It's believed that pissy Brits were too cooked to actually pronounce 'genever', the Dutch name for the juniper, and instead would shorten to 'gen', which then turned into 'gin'.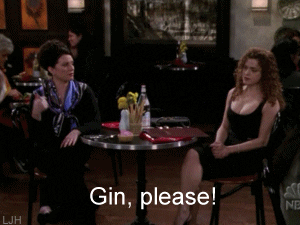 When Did It Become A Thing Again?
The British obsession with gin kicked off in the late 1600s and early 1700s, when tax breaks were given to the production of spirits (called the Corn Laws), and resulted in pints of gin being cheaper than a beer – ushering in the 'Gin Craze' era, and a swathe of problem drinking. Apparently when the River Thames froze over, distillers would set up on the river and sell hot gin with gingerbread, which sounds like a bloody delight.
In recent years, gin has typically been seen as the kind of spirit your grandparents would neck back on a summer's afternoon, or get a bit giddy on at a family reunion. It's well known that Queen Elizabeth II has multiple gin cocktails every day – including apparently having a glass of gin and Dubonnet (a spiced fortified wine) with a slice of lemon to "celebrate mid-morning". What a life.
For generations it's been considered a depressing spirit that was only reserved for sad poets and your nan, but then around the start of the 2010s, gin had a hell of a renaissance.
A ginaissance, if you will.
https://www.instagram.com/p/CAzjJUuDpBh/
In Australia specifically, Four Pillars in Healesville in Victoria was one of the first distilleries to really forge the path for small-batch, craft gin in the country. Founded in 2013, the Yarra Valley distillery knocked it out of the park early on with a double gold win at the World Spirit Championships in San Francisco in 2014, and took a handcrafted approach to creating the 'mothers ruin' spirit, as reported by ABC's Radio National.
The boom of craft distilleries in Australia in the following decade would result in over 170 distilleries by the end of 2019, with Indigenous botanicals and bush tucker like lemon myrtle, pepper berry or wattleseed being used to give Australian gin varietals its uniquely local twist.
In 2019, Australian gin was seen as some of the best in the world – with Good Food reporting that Four Pillars was set to overtake the premium Hendrick's Gin as the most popular drop in Australia.
So, Can You Make Gin At Home?
Though all the professional distilleries use kettles and stills to heat the base spirit with water to weaken it to around 50% ABV (alcohol by volume), steep the juniper and other chosen botanicals in the spirit for up to 48 hours, distill the spirit in a pot still, and then literally water down to a drinkable strength, you don't really have to have a fancy copper or metal still setup at home.
During the prohibition years in America (the 1920s), the process of distilling botanicals in a neutral spirit to essentially make gin was pretty popular. This process created 'bathtub gin', because batches were actually made in bathtubs in the 20s, but you also don't have to go and make gin in the tub either.
According to The Scotsman (with some expert assistance from Craft Gin Club), you can make your own at home by steeping juniper and other botanicals in a sterilised jar of vodka for your own bootleg gin.
What Can You Put In It?
If you haven't already figured it out, gin must have at least two vital ingredients to be classified as gin – a base spirit above 37.5% ABV, and juniper as the dominant botanical ingredient. Anything else in there is entirely up to you, the world is your cocktail shaker.
The extra botanicals is where you can really experiment with flavours and combinations, and build up on the booze and juniper heavy base. For what it's worth, juniper berries have a flavour profile that is tart, with a piney, slightly citrus flavour profile. They're essentially the tightly-clenched pinecones that can be crushed and used as a seasoning spice, and are quite common in European dishes and sides like sauerkraut.
So with that in mind, it's not surprising that a lot of craft distilleries in Australia opt for botanicals that complement juniper. Four Pillars' award-winning classic dry gin uses whole fresh oranges, lemon myrtle, coriander, green cardamom, cassia, star anise, lavender, pepperberry, and angelica – all spicy, warming, floral, and citrusy flavours to work with the juniper.
Maybe you want to have a warming, spiced gin so you're looking at cinnamon, peppercorn, star anise, ginger, cardamom, meen/bloodroot, or coriander seeds. Or you could go down the fruity, citrusy route and add in dried lemon, grapefruit or orange peel, finger limes, lemon-scented gum, lemon myrtle, or yuzu.
One of my favourite gins I've ever had was Distillery Botanica and Garden Grown's gin made especially for Sydney's Royal Botanic Garden. The Rather Royal gin distilled botanicals grown in the actual botanic gardens, including rose, mandarin leaf, curry leaf, orris (iris root), lemon verbena, chamomile, horehound, and murraya (jasmine orange).
https://www.instagram.com/p/BsDI777lHqj/
That one's very much sold out these days, but Garden Grown now has small batches made specifically from the Blue Mountains botanic garden and local gardens in Erina on the NSW Central Coast.
Growing your own botanicals and distilling them (responsibly and safely) in vodka could absolutely be a grouse personalised gift for your mates, or your family, or whoever you wind up getting in secret Santa this year.
How To Make Gin At Home
It's not a very hard process, but it does take a bit of filtering and timing. Craft Gin Club lent their at-home recipe and tricks to The Scotsman, which involve some good quality vodka, juniper berries (fresh berries or fruiting plants can be a bit tricky to come by in Australia, but iHerb stocks whole berries), and a touch of patience.
Here's their tricks on how to make gin at home, without a fancy-ass kettle and still setup.
Ingredients
750ml good quality vodka
2 tbsp juniper berries (more if you like juniper-forward gin)
1 tsp coriander seeds
2 cardamom pods
2 peppercorns
Half a cinnamon stick
A small piece of dried orange peel (remove the white pith as it's very bitter)
A small piece of dried lemon peel (again, no pith)
Method
Sterilise a clean mason jar or glass bottle with boiling water
Add your botanicals to the jar, minus any fresh peel
Top up with vodka, then leave to infuse in a cool dark place for 24 hours
Taste the infusion – it should have taken on some lovely juniper ginnyness already. Add your fresh peel, along with and extra botanicals whose flavour you want to boost.
Leave for up to another 24 hours, giving the bottle a gentle shake at least once. Beware of leaving it too long and over-infusing the mixture – think of it a bit like brewing tea.
Taste again and if you're happy, then filter out all the botanicals using a sieve. If there's still some sediment left, use some muslin or a coffee filter to strain again.
Leave the liquid to sit for a couple of days and then filter out any remaining sediment – and put through a water filter jug if you want to make it even clearer (but as we said, don't worry too much about the colour).
Bottle your gin – feel free to create your own label if you want – and you're ready to try your creation out on your nearest and dearest.
So there you go – as with anything, make sure you're being responsible with your creations, and if you're doing the more formal distillation process and not just chucking vodka and bits in a sterile mason jar, make sure you're adjusting your gin so it's an enjoyable strength. Otherwise you're going to have some real flowery rocket fuel on your hands. But if that happens, we've got you covered with this handy guide on how to sober up.