Contributor: Matt Hopkins
Ever find yourself daydreaming about extravagant fountains? Yeah, me too. Well, how would you like to visit an extravagant fountain which is also a bar? You can do exactly that right now, folks.
The very good and nice vodka folks at Grey Goose Vodka will be setting up a luxe-as-hell fountain in venues across Sydney and Melbourne, offering delicious cocktails for you to sip while you admire its chic marble finish. Not bhed.
The working fountain's design is inspired by Grey Goose's luxury French heritage and takes a lot of inspiration from European architecture. If that's absolutely your jam, you can swing by the Fountain of Goose and pick a complimentary vodka, lime and soda mini cocktail to wet your whistle. Better yet, it'll be from the limited-edition Grey Goose x Maison Labiche Riviera bottle, which is fancy as all heck.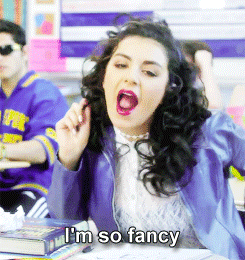 The Fountain of Goose will also feature 'out of the blue' performances and experiences, with different acts appearing depending on the day and location of the pop-up, so there'll plenty of reasons to hang around and catch a show with your bevvy. 
Of course, you'll be able to grab a bit of a feed while you're there, too. Grey Goose has partnered with Gelato Messina to create an Espresso Martini flavoured gelato which, frankly, I'm surprised isn't already a thing. Who doesn't love a good pick-me-up? You can catch a scoop for yourself on November 22 at the First Fleet Park Fountain of Goose in Sydney's Circular Quay.
And if you leave thirsty for more, Grey Goose has also partnered with bars around each location where you can redeem a specialty cocktail token. If that sounds delicious to you, these bars will be:
Broadbeach: Nineteen at The Star Casino, Hideaway Bar.
Sydney: Maybe Sammy & Quay Bar.
Melbourne: Madame Brussels, Spice Market & Ludlow
If you're keen to suss out the Fountain of Goose for yourself, you can do so at the places and dates below.
First Fleet Park, Circular Quay:

Wednesday 20 November, 2 – 6pm 

Thursday 21 November, 2 – 6pm 

Friday 22 November, 3 – 7pm 

Saturday 23 November, 1 – 5pm 

Sunday 24 November, 1 – 5pm 
Federation Square, Melbourne:

Saturday 7 and Sunday 8 December, 4 – 8pm 

Monday 9 December – Wednesday 11 December, 3 – 7pm
I look forward to recreating the opening sequence from Friends with you, folks.