It's been a hot minute since someone decided to smoosh together two delicious treats into a hybrid monstrosity of pure yum, so we're absolutely due for a new creation. Enter, the cramington from Sydney's Banksia Bakehouse.
What's a cramington, you ask? As you'd imagine, it's a portmanteau of croissant and lamington, coming together in one decadent cube of crumbly yum-ness.
Seriously, just look at it and tell me you're not salivating madly.
Give me this delicious naughty cube immediately.
These cuboids are made from croissant pastry, absolutely stuffed with dark chocolate ganache and a strawberry rose jam, and then smothered in dark chocolate and rolled in desiccated coconut. Mother of God, that cross-section looks like straight-up pastry porn. Is this NSFW? It feels NSFW.
Banksia Bakehouse in Sydney's CBD has been sliding these blocks of fluffy, buttery, chocolate-y goodness onto the menu for the last few days, and only bake a limited number daily. Once they're gone, they're gone.
So if you're eyeing one of these off for a mid-morning snack with your third coffee of the day, you'll need to duck in quick to snag yourself a yum cube. Too late and you might end up trudging back to the office empty-handed, and you may as well put yourself in the Shame Cube for that kind of behaviour.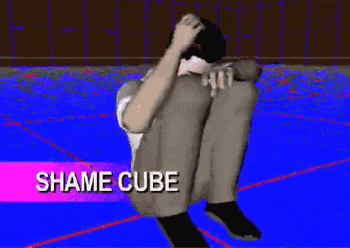 Cruffins and cronuts have had their time in the sun, and now it's time for the cramington to shine in all its cube-y glory, it's time for a new fever dream hybrid pastry to get the attention.
Do I want to cram one into my gob immediately? Yes. Am I furious that I live in Melbourne and can't just yet into the city to get a cramington today? Also yes.
Consider this my formal request for the Banksia Bakehouse team to collab with Lune Croissanterie down here so the cramington can cross the border and I can snack on the damn thing.
Image: Instagram / @banksiasydney / @aileenzhang