It's well known that the middle aisle in ALDI is a special, sacred place. A haven of the German-owned discount supermarket that can be home to ski gear and washing machines at the same time, if the catalogue deems it so.
It's a section of the store that people literally line up for at sparrow's fart on a Saturday morning, hoping and praying that the bastards ahead of them in the line won't nick all the good shit before them.
[jwplayer CkP9AWwW]
This weekend, all of us who love a cheeky glass or two of plonk and probably have at some stage been gifted a fancy-ass bottle of shiraz from a distant relative will be cheering, as ALDI are slinging a schmick-lookin' wine fridge in that coveted middle aisle.
Those of us who are trying really hard to make their home come across as a fully-fledged adult human person house that definitely doesn't keep their wine in a silver sack in the back fridge can pick up one of these bad boys, stick it in the kitchen (???) and store our finest drops in there. (Read: three bottles of Yellow and a half-finished cleanskin red.)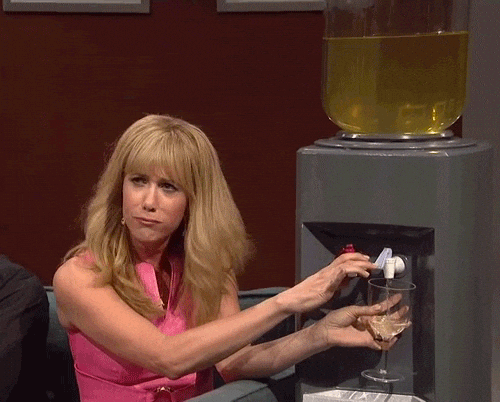 If anything, the 46-bottle (christ) wine fridge will get the nod of approval from mum and dad and can be used as a talking point for any and all conversations at dinner parties, pot lucks, house parties, family visits, with unsuspecting doorknockers, and literally anyone who dares tread foot into your home.
Look at this thing, I bet it can store uh…lots of wine. Sideways. For when you're like "ohoho just let me grab another drop of that delightful Barossa cabernet sauvignon from the Wine Fridge", potentially while also wearing a full suit with a cravat, or a velvet smoking robe. You fancy binch.
You can grab one of these very fancy fridgey boys for a princely sum of $299 at your local ALDI from Saturday morning as part of the sleek kitchen range, so text your housemates and pool in the money that you'd probably otherwise blow on a huge night out on the turps anyway.