PEDESTRIAN.TV has partnered with Almond Breeze Australia to help your lazy butt get fed.
Not being assed to cook is more or less my constant state of being, if I'm honest. If there are more than three steps in the method then it's more work than I can motivate myself to jump on.
This is why I love some smoothie action. It's a step above working my way through the entire yogurt tub (which, yes, is a thing I do for lazy dinner sometimes), is healthy (so you can still pat yourself on the back for being wholesome) and still only requires minimal effort. Bingo, mates.
Feeling my sentiments? Then please enjoy these equally tasty and easy smoothie recipes to whip up next time you're being a lazy binch.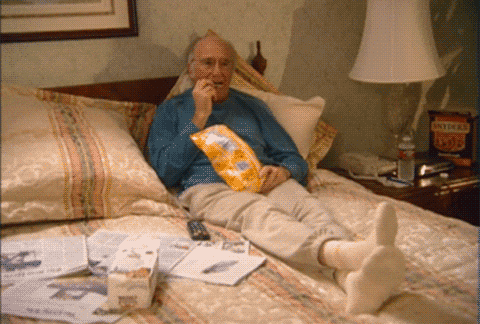 The only fruit I love more than mango is the humble peach, and this recipe happens to serve two, so you best believe it's on top of my list.
Ingredients
1 cup frozen mango, chopped
1 peach, peeled, cored – fresh or canned
1 banana, frozen
1 teaspoon pumpkin spice – blend ground cinnamon, ginger, nutmeg, cloves
1 tablespoon maple syrup or honey
1 ½ cup Almond Breeze Vanilla
Method
Chuck it all in a blender and whizz until it's smooth.
If you're feeling fancy you can add a sprinkle of pumpkin spice, cinnamon sticks and mint leaves on top.
Tell me that whipped cream and caramel doesn't make anything instantly seem more decadent. This bad boi is a main meal and dessert in one.
Ingredients
1 ½ cup Almond Breeze Unsweetened Vanilla
1 banana
3 dates, cored, soaked 5 minutes in hot water
1 scoop caramel whey powder (or vanilla whey powder)
1 tablespoon honey
Whipped cream
Method
Chuck it all in a blender and whizz until it's smooth.
Top it off with a dollop of whipped cream and a swirl of caramel sauce, because you deserve it.
There's a reason green smoothies hit the big time not long ago. Do you know how many fruits and veg are green? A lot, and they're delish, so it makes sense to throw them into one drink.
Ingredients
1 cup Almond Breeze Unsweetened
1/2 green kiwi fruit, peeled, cubed
1/2 granny smith apple, skin on, cubed
3/4 cup baby spinach leaves
5 cm length of cucumber, skin on
2 teaspoons chia seeds
1 teaspoon ground flax seed
1 teaspoon grated fresh ginger
1/2 teaspoon of ground turmeric
Juice of one small lemon
Method
Chuck it all in a blender and whizz until it's smooth.
Adding peanut butter to chocolate is 100% the best thing America has ever done for the world. This recipe is basically grown-up choccie milk.
Ingredients
¾ Cup of Almond Breeze Chocolate

1 banana

1 Tbs. oats

1 Tbs. flax seeds

2 Tbs. natural peanut butter

2 Tbs. Cacao Powder

1 cup of ice

Cacao nibs and almonds for serving
Method
Chuck it all in a blender and whizz until it's smooth.
Sprinkle some cacao nibs and almonds on top to add a little pizzaz.
As delish as all of these are obviously sounding to you, they're also pretty darn healthy. Not to mention they literally take about five minutes to whip up. Get 'em in ya!